Recent painting: The Troubled Pole Herder
A Simple Fix for A Huge Increase in Performance with OS X and Large Maya Scenes
In my review of the 2013 Mac Pro, one of the biggest issue I had with the machine was the OpenGL performance and the showstopper was a set of videos that shows how bad the D700 GPUs perform with very large Maya scenes. Well, it turns out that this is due to a Maya bug – you're surprised, I know – and there is a simple fix for Maya 2014. Just put this line in your Maya.env plain text file ( ~/Library/Preferences/Autodesk/maya/2014-x64/Maya.env):
MAYA_OGS_GPU_MEMORY_LIMIT=6000
That's for the D700's 6GB of VRAM. Obviously for your particular GPU, set it to whatever your GPU's RAM is, or slightly lower if you want to be extra safe. Relaunch Maya and witness the result – a giant performance boost and near-parity with Windows performance:
Glad this was sorted out and this fix will be rolled into Maya 2015. Off to update the review…
Quick Look at Parallels Desktop 9 Enterprise
As you probably saw here or on Twitter, I recently got a new 8-core Mac Pro. Occasionally, I occasionally test scripts in Maya for Windows and do model conversions in Autodesk Max and sometimes use a Windows virtual machine to do it, even though I have a gaming rig that could be used instead. If you read my review of both VMware Fusion 6 and Parallels Desktop 6 on Ars Technica, you might have been able to tell that I prefer Parallels' speedier and robust 3D support but envied Fusion 6's support for 16 virtual CPU cores.
So Parallels gave me a testout of their Parallels Desktop 6 Enterprise edition that has 16-core support for this machine. So I quickly put it to the test with Cinebench to compare it to VMware and the host Mac's score. Results (score, higher is better):
Native 8-core Mac Pro in OS X 10.9.1: 13.74
8-core Mac Pro with VMware Fusion 6 Windows 7: 12.99
8-core Mac Pro with Parallels Desktop 9 Enterprise: 13.05
Not bad and it confirm that this is still my all-around favourite virtual machine program for demanding 3D client applications and rendering. Max runs well:
If you are testing Maya scripts in Windows, the viewport 1 performance is okay too:
And the best thing? You're literally running two OSes and two demanding 3D applications but multitasking is still better than when rendering on native Windows hardware:

Multitasking with no priority drop for the rendering. Dare to dream.
Sorry Windows users, but I had to. After the spate of questions about why I'd run 3D apps in OS X when the OpenGL performance is better in Windows, that should be answer enough.
Anyway, Parallels Desktop 9 Enterprise a $100/year and, while that is a reasonable price for the software, I hope they add it to the base non-Enterprise version because VMware's Fusion is cheaper and doesn't require a timed-out subscription to offer similar virtual 16-core support. But, if you need a 3D machine in a VM now for OS X, this is the best option.
My Review of the 2013 Mac Pro
So my very long review of the new Mac Pro is up on Ars Technica after extended testing with a ton of pro apps. Great machine but Apple's job is not yet finished since the lack of dual CPU configurations and lacklustre OpenGL drivers make it tricky to recommend as a one-stop shop for all things 3D. The OpenCL scores are bananas though – you'd have a hard time finding a more capable machine for OpenCL-accelerated 4K editing in programs like Resolve or Final Cut Pro X.
And man, this thing is quiet and tiny: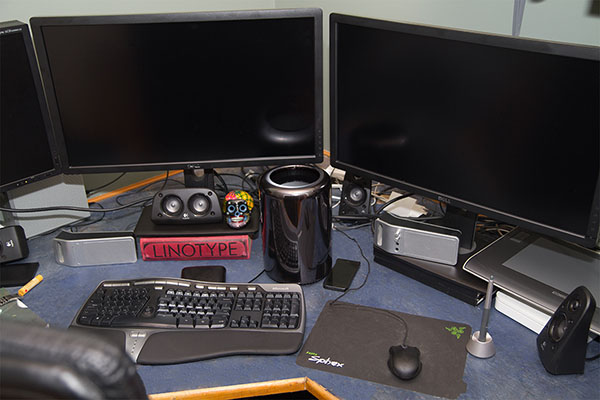 How to Quickly Model a Scroll in Maya
I am making a quick money and bonds 3D illustration for a magazine layout and thought I'd show the fast method I used for the bond scroll. Install the Bonus Tools for your version of Maya because it relies on the spiral curve that is in there.
You don't need to use a lattice deformer to do such a simple scale operation but it's the first thing that I reach for when I do stuff like this because it adds a layer of procedural control if I want to add divisions and extra shaping to my sub-shape. If you want to add a bit of personality and squash to your scroll, use a squash deformer: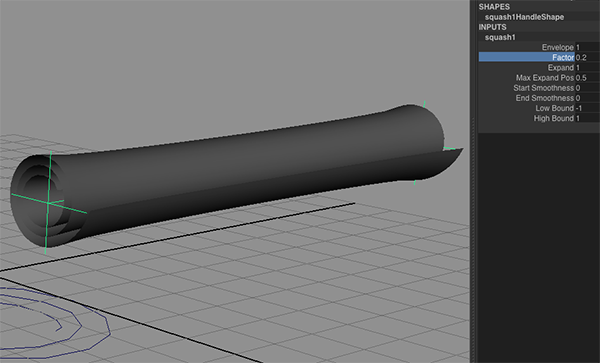 and here is my draft render (the scene is not finalized yet):

Total time for the scroll? Like four minutes. I will probably add some translucency to the material to get more pleasing bounces inside the scroll because it's solid currently.
My Article on the Demise of QuarkXPress
I got my graphics start as a print art director and, when I started, Quark was king. Read my piece about how they completely blew their monopoly. Good reading for nostalgic graphics nerds or business people alike.
A Note About Setting Optimal V-Ray Settings for Distributed Rendering
It's possible if you're a V-Ray user that you're wasting time when doing distributed rendering with V-Ray light caches. A while ago, I added a modification to V-Ray Tuner that prompts you if you hit the Optimize button when using distributed rendering is enabled. It will ask for the max threads of the machine with the most threads. While the final render will always use the right amount of threads for your slave, the light cache passes should be set to the max thread count for all machines. So if you have three machines in your DR list with the following configs:
machine 1: 6 cores/12threads
machine 2: 16 cores/32 threads
machine 3: 8 cores/16 threads
You should set the light cache passes to 32. Or just enter 32 in the Optimize prompt in V-Ray Tuner. This won't cause issues for your machines with fewer cores/threads. If you aren't using DR, it will set the LC passes and render settings to use the max threads for your host machine, without a prompt. Some people may be avoiding the Optimize button because they don't want it screwing with your setup or scene but it just does this minimal setup. I also hate scripts that do mystical magic to your stuff to make it faster, leaving you to guess what it's modified. Any feature in V-Ray Tuner that deals with quality will always be very clear about what it is changing so there are no surprises.
Stay tuned to read about V-Ray Tuner 4 features. I have added a bunch of things like a Distributed Render slave manager that should save people plenty of time when dealing with networked nodes.
A mental ray Batch Render Script to Work Around Batchrender's OS X Mavericks Issue
I haven't used mental ray in years and I have been doing batch renders with my V-Ray command line script that I wrote for V-Ray Tuner so I feel a little bad that I didn't catch the incompatibility with Mavericks and Maya's batch render application. So here is a mental ray version of my command line script that writes out a batch file that opens in the OS X Terminal and uses the Maya Render binary, not Maya batch, so it works fine with Mavericks. Just enter "commandLinerMR" in the MEL command line and it will render your current scene according to the file's properties and animation settings length:
It also sets the thread flag to your max cores so you don't have to configure it manually. It also works with Linux's xterm window or Windows' command prompt, so feel free to use it if you just want a way to view render progress in a terminal while rendering. If you want to edit the script to work with Arnold or another renderer, feel free. It's pretty simple once you look at the code.
There's no official word from Autodesk on when a fix is coming for the batch render and Mavericks. Hopefully there will be a service pack before 2015 is released because the new Mac Pro ships with Mavericks and that could affect a lot of Maya users.
Actually Empty Trash – Automator Workflow for OS X to Empty Trash if Items Are Open
The OS X Mavericks upgrade has been pretty painless for me but one thing that seems to be an issue is that QuickLook likes to lock onto files so they think they are open. It's trivially easy to get the "File in use" error when trying to empty the trash now. Until Apple fixes it, you can try the Secure Empty Trash, but that will be slower since it does multiple passes to write zeros over the space on the disk where the file data was before. This is potentially more of a problem also, if you don't have backups since a disk data recovery tool won't find these files. So I made an Automator version of the two-line shell script I use to empty the trash in these cases:
rm -rf /Volumes/*/.Trashes
rm -rf ~/.Trash
That actually deletes the trash folder but the OS recreates one with proper permissions anyway. The Automator workflow can be downloaded here: Actually_Empty_Trash.zip
See it in action:
Use the Shortcuts panel of the Keyboard system preferences to add a hotkey to the service and you're set: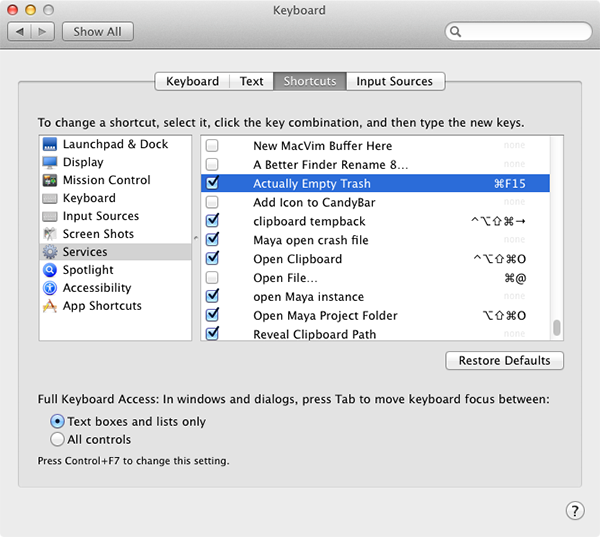 The script is not dangerous and there is no way it will ever delete anything not in the Trashes folder but, nevertheless, it comes with no guarantees.
Set the Default Timeline Frame Range to Something Reasonable in Maya
So, every once in a while you stumble on a tip from the Maya devs that you have to share. This one will bring great happiness to legions of Maya users: the ability to set the frame range for the time slider to something other than a max of 24, which is ludicrously low unless you are an animator of Vine videos. So, get your favourite plain text editor and open your userPrefs.mel file. On Mac, it's in ~/Library/Preferences/Autodesk/maya/2014-x64/prefs/ so find the equivalent file in your user prefs folder in Windows and Linux. Find these lines:

and, with Maya quit, change them to: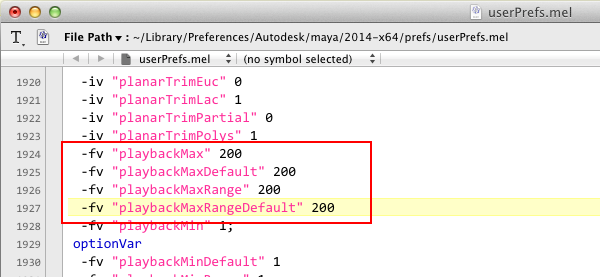 to make the timeline end at 200. Relaunch Maya and boom: