For Those of You Considering VFX Jobs in Canada – A Very Biased City Guide
As I sit here waiting for my Mac Pro to arrive so I can write my Ars Technica review, I thought I'd share a forum post I made on CGSociety. I see a lot of people looking for VFX work and Canada has seen a lot of growth in that area, in Vancouver, Toronto and, more recently in my city of Montreal (yes, despite what you've heard, it's all mine). So this is a sort of cross-post from that forum:
---
I'm originally from Ottawa (here now for Christmas – it's the city that never wakes) but I've been living in Montreal for 19 years. My friend who works as a matte painter for MPC just moved here after living in Toronto for years (she hates it) and Vancouver for a bit. She likes it a lot in Montreal and I love it for a few reasons:
It's not just a cliché – there is a more European feel to the city that is completely different from anything else in North America. If you love old lofts, cool cafés, good food, good beer and good music, you will be in heaven.
Living is affordable compared to Vancouver or Toronto
While the Quebec politics can be annoying (don't get me started), you can get by easily on English in most central boroughs like NDG, Old Montreal, Plateau, Mile End, Outremont, Park X, etc. Your job, if it's at a place like Ubisoft for games or MPC for film, can be done in English. You'll likely have meetings like you see in many of Quebec's fields: in a strangely fluid mix of English and French. People tend to just work in what they are comfortable in, despite laws that try and enforce otherwise.
It's close to NYC (I'm a painter so this is a big deal for me)
It's not cheesy like Toronto is. Toronto is where small town people go to feel like they've "made it" and that comes with poorly-veiled attitude, with a gooey centre of conservatism, covered in a gloss coat of fake niceness. It's gross and I've had many friends try to live there only to come back to Montreal after being asked such sickening questions as "what do you drive?" I've heard it called "the perpetual business conference" and that's apropos.
The living is easy and people visibly love it there.
The girls. If you are a straight guy or a gay lady, Montreal is ridiculous for hotties. People are dumfounded when they visit for the first time because it's shocking how stupidly pretty the girls are, and not in a pink jogging pants L.A. way.
The down sides to Montreal:
Salaries tend to be lower than in Toronto and Vancouver but money goes further. I was offered a job in LA for $140K once and thought of that like making $60,000 in Montreal. You can live super comfortably on a starting salary of $40K or $50K here where that would be impossible in Vancouver or Toronto.
It's crazy cold here in winter. Last week, it went down to -30°C ( -22°F), which is extreme for December but typical of Jan or Feb. I think only Moscow is colder for such a populous city. But that makes spring and summer here great because people appreciate the warm weather. It's also less depressing, in my opinion, than the ton of rain that is Vancouver winter. It's less glum.
The language politics – ok, I got started on this so here goes. It's hard to avoid feeling like a second-class citizen if you are an anglophone in Quebec. Where Republicans and Fox news play on fear, the politics here is similarly driven by the desire to make Quebecers feel like they are an endangered species at risk by the increasing influx of Muslim and Hispanic immigrants who already integrate a lot better than they do in places like France or Germany. You will be infuriated to see your tax money spent on giant billboard ads that sell the ability to speak French like it's the next iteration of the Halo franchise. You will hear talk from a thankfully-shrinking breed of delusioned hard-liners that Quebec would be better off as an independent state. You will get mail from the provincial government warning you of crucial health-related issues – in French only. The recent Charter of Values debacle – they are trying to strip people of their right to wear a hijab or kipa in public offices like hospitals, which is offensive even to this atheist – is the darkest is gotten here in this regard but I am confident the Parti Quebecois has so badly overplayed their fear-mongering hand that it will backfire.
Otherwise, Montreal is a quintessentially east-coast city. If you like mountains, trees, hiking, hippies and smoking tons of weed, Vancouver is for you. If you like sophisticated city life, art, culture, street festivals, book stores, vintage shops, buildings with personality and one night stands, then Montreal is for you. We still have good weed though.
So there you have it. Eat it, Toronto. Montreal for the win.
PS – Happy Jesus Stocking Festivus, one and all!
SuperPNG – the Free Photoshop Plug-in That Saves Large PNGs in Under a Year
I complained recently on Twitter that Photoshop's compressed PNG option is brutally slow. If you save a 16-bit 8K texture map to PNG in Photoshop, it's guaranteed to take at least 3 minutes to save, even on current hardware. It's insane.
Thankfully, someone heard my nerdy tweet cries and pointed me to SuperPNG, a free plug-in that offers different compression levels and saves compressed PNGs a hell of a lot faster than Photoshop does. I had to share this because it will save you tons of time if you work with PNGs in Photoshop.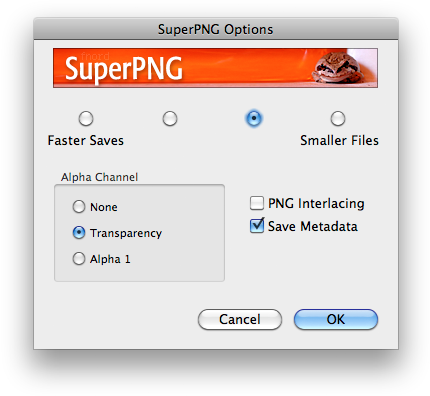 For Maya users, it also prompts you to specify whether you want to open the transparency of PNG files as transparency or an alpha channel (unpremultiplied!), which solves a big workflow problem for Maya, Photoshop and PNG.

Otherwise, if you just want to convert PNGs quickly in the OS X Finder, my Automator action with Python 3 is still faster. Grab that in my post here.
Use a Gamma Correct Node to Burn and Dodge Alpha Transparency
I'm doing a scene with a bunch of simple cloud shadows cast over a valley and I'm using a plane with a repeating cloud texture mapped to the Opacity attribute of a V-Ray Mat. This will render a lot faster than doing a volumetric cloud and I also get the flexibility of using a gamma correct for the file texture node to effectively dodge and burn the cloud edges:
Since a gamma curve only adjusts your mid tones, this is a good way to save a trip to Photoshop and it's lossless so it doesn't mess up your original cloud texture. The results are pretty convincing too: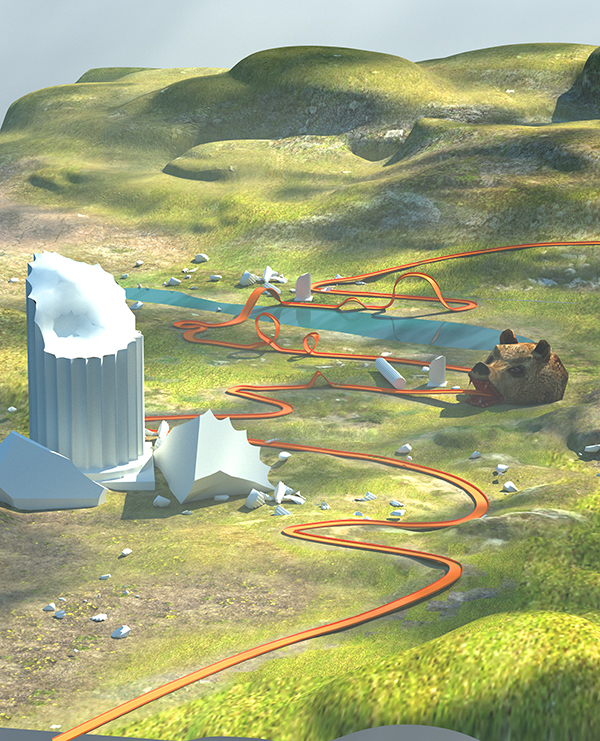 Mari Me 1.1 Fixes Windows Texture Paths Issue and Adds New Stuff
Aside from the texture path bug for Windows machines that's been fixed, I've been steadily adding things to Mari Me (Download) that I think will be welcome additions: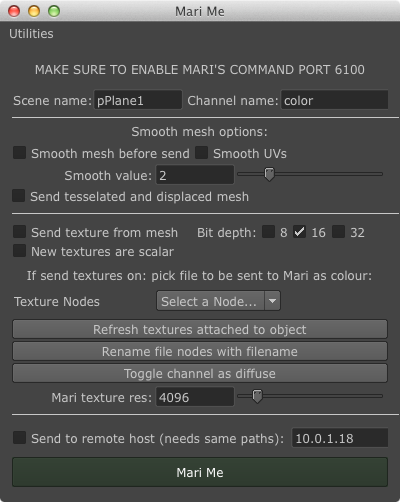 From the changelog:
Added ability to make scalar channels for new scenes. Extisting textures sent from Maya are always sent as gamma-correct RGB though, so if you want to change those, you'll have to do it from Mari once it's sent
Added bit depth option for channels
Added ability to send stuff to remote Mari host. Change the IP in the MEL file to your machine – it's set to one of my Linux machines' local IP. This requires that the paths be the same, so if you are sharing a Mac folder to Linux Mari host, you'll need to mount shares to /Volumes/etc/ to mimic the paths on the Mac. It's for this reason that there is no way to send to Windows machine from Linux or Mac because they don't have a Unix style path structure. You could send from Win to Win but your shares would similarly have to be exactly the same path, which isn't likely given drive letters. Microsoft needs to put a bullet in the head of those things because they are a constant issue when trying to make scripts for Windows
Added custom name option for created channels
Added Rename file nodes with filename script so it's easier to navigate File Nodes list
Resized buttons because they were XBone huge
Fixed Windows paths for textures
Also, I've added a Utilities menu where I'll start to add things that you'll want to do inside of Maya for a workflow that involves Mari. Stuff like this UV Tile GUI to move and maximize UV shell space across UDIMs:
and I have put my AutoTileMe script in the Utils menu as well:
It now graphs the File node network at the end so you can see the structure and clearly know which to connect to your shader (the top one in the hierarchy).
Lastly, the Just Save OBJs script in the Utilities menu saves out an OBJ for selected objects to a project/GoZ folder for use with Mari (or ZBrush) with nothing sent to Mari. I'll eventually update that to work with the smoothing and displacement options.
OS X and Linux Users: Remove the .mayaSwatches and .vrayThumbs Folders With a Shell Script
Maya and V-Ray leave material swatch previews strewn throughout your system, so I clean these out all at once every once in a while. With this single terminal line in bash, on both OS X and Linux, you can make a script that will be ready to remove the folders for you. For .mayaSwatches:
find / -name ".mayaSwatches" -print | sed 's/.*/rm -rf "&"/g' > ~/Desktop/delete_mayaswatches.sh; chmod +x ~/Desktop/delete_mayaswatches.sh

and for .vrayThumbs:
find / -name ".vrayThumbs" -print | sed 's/.*/rm -rf "&"/g' > ~/Desktop/delete_vrayThumbs.sh; chmod +x ~/Desktop/delete_vrayThumbs.sh

It will bark about not having permission to read some directories since you're not using sudo but you don't want to do it for all users and you don't need to comb system folders for this anyway. The script itself doesn't do anything until you run it in the terminal, and you can open it in a text editor to verify that nothing harmful is done by it: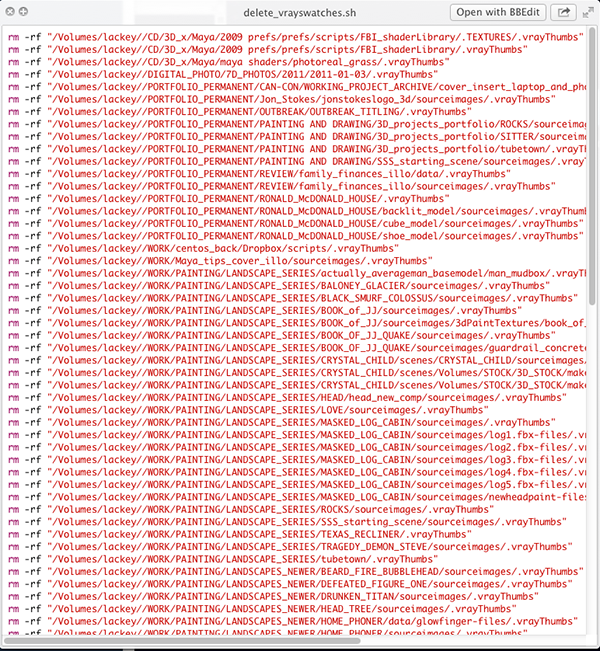 Nevertheless, this post comes with heaping portions of "use at your own risk."
After you're confident that it's not going to nuke anything you don't want to nuke, drag the script into the terminal window to run it. Wait for it to finish and those folders will be gone.
Mari Me 1.0 – A Send to Mari Script for Maya
So, after tiring of Mari's new project panel and its non-OS version of its open dialog, I decided to make a script (Download here) that sends the selected mesh from Maya to Mari for painting. It has some nice options that I think will be welcome: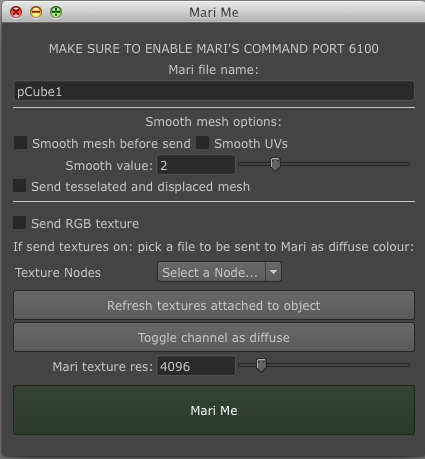 The features are shown in the video here:
If you don't choose to send an existing texture, it will create a 50% grey "color" channel that is set to the resolution of the slider, which snaps to Mari's supported resolutions.
I added the ability to send a tessellated and displaced mesh even though I know that Mari does displacement previews but these don't use your actual values from your existing Maya model so this script creates a mesh that is closer to what will render. It's not the best solution since the geometry can be really jaggy but it's better than nothing. Just make sure you only run this displacement script on cage-type geometry because it smooths the mesh and then tessellates so it will extremely slow if it's a already high-ish res mesh.
As you can see from the video, I originally made this script to send Python to the clipboard since I didn't see any documentation for the command port that is used by Nuke to talk to Mari but there was an example script that showed that it receives straight Python. So my script does all the gross code escaping and wraps the Python commands in a single line and passes it to Mari.
To get the script to speak to Mari, you need to make sure that Mari's command port is open to the default port of 6100. This is in the Scripts portion of the Mari preferences.

The only limitations to the script right now are that it needs to have a relatively simple material applied to the selected mesh – it will simply fail if you have a V-Ray Blend Mat applied to it, for example – a fix for this will come soonish. You also have to have a mesh selected when you run it. Also, textures are currently sent only as RGB, with no scalar option. This will come later and I'd like to add an auto-detect for the applied texture res for the slider. Tiled mats are not supported – obviously that is a dealbreaker for many but hopefully I can get that working some time in the future. I haven't tested it in Windows or Linux but it should work fine. The exported meshes are stored in a project_path/GoZ/ folder because I didn't want to create a different folder for OBJs that I use with my ZBrush meshes.
Enjoy.
Getting V-Ray Rect Lights to Show up in Maya's Viewport 2
So it turns out that V-Ray Rectangular Lights use four spotlights to achieve their display in Maya's viewport 2, so if you have some not showing up, jack up the supported light amount in viewport 2:
V-Ray Tuner 3.6 Posted for Download
Slowly getting my brain to function after the loss of my dad and put up new V-Ray Tuner version with some features:
Reload All Textures: reloads all…..wait for it….. textures.
Polygonal Displacement Preview added to material menu.
Toggle Displace As Diffuse script added to Materials menu.
Increase viewport2 preview texture size script added to Materials menu.
Lowered physical camera F-stop slider min to 0.01
Fixed Material Swapper script. It could fail if you didn't have displacement attached to the original material.
Added the ability to reapply original material to V-Ray/Maya Material Swapper script.
Dock Maya Render window script added to Render menu. This prevents it from popping up every time you want to just render using the VFB.
Apply any object's subtexture as diffuse toggle - script added to Materials menu. This is similar to the apply displace as diffuse but populates a list from the files attached to the mesh's shader:
I'm working on getting it to work with V-Ray Blend mats as well. Thanks go out to Andrew Hazelden for the list population code. That saved me tons of work.
Initial V-Ray Tuner/Refresh info that is shown in the command line feedback now includes your scene's preview resolution.
If you enjoy using V-Ray Tuner, call your parents and tell them you love them.
In Memory of John Girard – Brilliant Man and An Even Better Father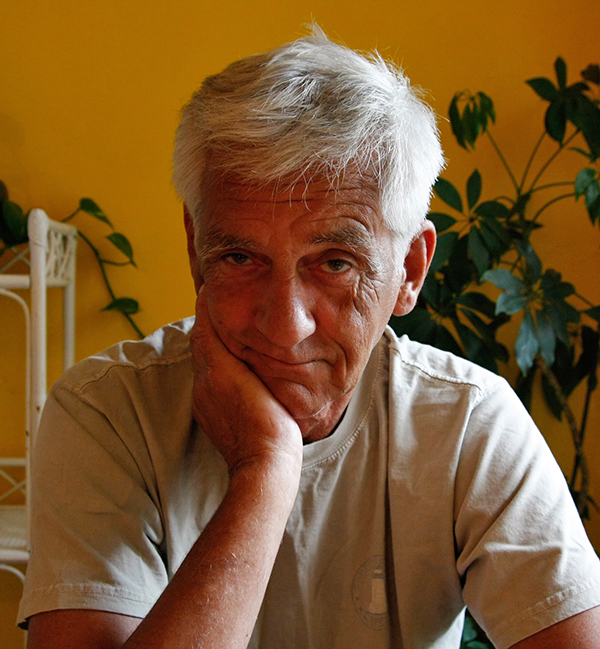 This blog would seem like a terrible place for a eulogy. But then, it's possible you didn't know my father. If you had, then you'd know that nowhere was he more at home than when he was surrounded by bits of neat ideas, threads of thought, drafted plans, CAD sketches, nuts and bolts, enthusiastically shared knowledge, mixed media, projects finished and those yet to be finished. He fired on all cylinders and his eyes glimmered when he talked about something that seemed beyond any one person and he always inspired us with his creativity and ingenuity. My father lived, and he died, in his workshop. So it is the best tribute to my father that I should lay his weathered soul down in a bed of shared ideas. He wouldn't have wanted it any other way.
An introduction
If you wanted to get to know my dad, you just needed to look at his hands. His hands were large, leather-bound tomes that were always stained and scarred from the merciless demands of his brain. They were rarely allowed to idle and they moved between so many fields of expertise, that you couldn't help but be amazed by their awesome powers. Dad's hands made the words "skilled" and "rugged" back away without a fight – and this was despite an increasing essential tremor that complicated his love for coffee, which preferably ended up in his mouth.
Dad's hands were the reason I learned to value the signs of time and hard work on people's faces. In my father's universe, you would be congratulated for achieving another set of lines under your eyes because they told a story about love for ideas and late nights chasing that next great thing that you treasured. In my father's world, fool's gold was a face well preserved by a lack of work, passion and laughter. Similarly, clothes for my father were not about display, they were a necessary evil and time spent thinking about them was less time doing what mattered to him – being with his projects or with family. But clothes helped keep your wang out of the milling machine, which was a plus. Predictably, that view took its toll on his fashion sense, and socks and sandals weren't a bad cliché for my dad – they were a way of life. He rocked that magic duo like a champ: black socks, leather sandals – you name it – he raised that combo to an art form.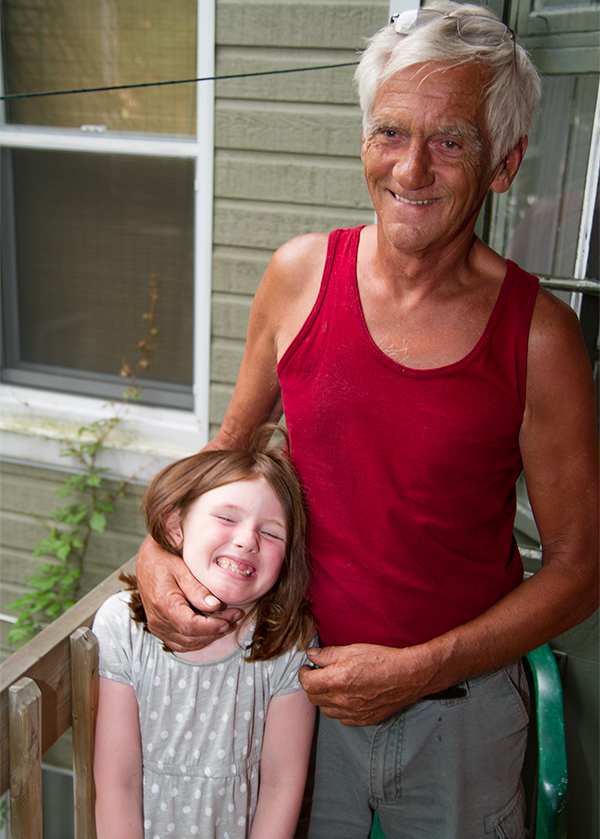 Dad's hands holding one of his most valued treasures: his granddaughter Meah. Click any images posted here for high-res version.
As good as dad was with his hands, it didn't come without trade-offs. His spelling was pretty awful and navigating through his caring words in a letter or email was like walking through a misspelled minefield. But that showed another flattering irony about him: he left high school because formal education got in the way of his ability to work with the ideas he already had and urgently needed to develop. There's a great Marcel Duchamp piece of a door that closes one room but opens another – sooner or later, you have to pick which room the door opens and go in, leaving the other room closed. Behind the door that my dad closed early were diplomas, eating right and anything done in moderation. But the room that was left open led to a frenzy of discovery and applied hands-on learning that was treasured and used more than a piece of paper could have been. He never let school get in the way of a proper education.
As a result of his insatiable desire for knowledge, he was one of the smartest uneducated men you'd ever meet. His ability to reverse engineer and solve problems shamed people with more credentials – literally. His degree-toting engineer managers at Pratt & Whitney and his union bosses at earlier jobs hated him because he made everyone around him look bad. He worked too hard and he worked too well and he earned his share of haters as a result. He was the Reverse Engineer, PhD and the best kind of shit-disturber. As a result, he instilled in me a love for learning through self-sufficiency and a disdain for the superficial aspects of academia and for-money training. If it wasn't for this gift to me, I would probably be trudging through an expensive Master's degree instead of happily working directly with my painting mentor (Dad's charm genes also came in handy there). My mother often said that my father would have been dangerous with an education – but he was dangerous because he didn't have an education. In the days before the Internet, YouTube, open source and freely-available learning, my father became a well-paid engineer with no engineering schooling. That is dangerous.
A legacy of work and love
All this talk about work and my dad's world could be misconstrued as the story of a hardened recluse who cared little for people and that his accomplishments were simply work-related. But family was always the first thing on his list of priorities: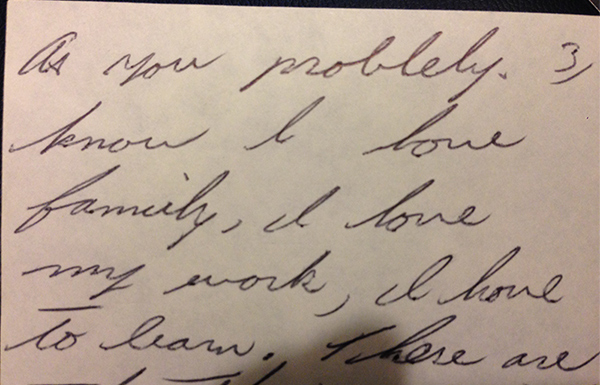 A note from my dad that I kept – you know it's authentic by his ability to make you feel loved, and by the typo.
But he frequently expressed his love for his family through his work. He built me my first toolbox, furniture for my sister, he built my first drafting table, he fixed our cars, he made my newly-bought home safe by replacing the bad wiring that was hacked together by a megalomaniacal yoga instructor, he fixed up an apartment for my stepsister Tammy and then he rigged up a safely slowed-down golf cart so he could watch the grandkids happily poke around their land in it. He helped me turn an uninsulated shack appended to our apartment into a proper painting studio: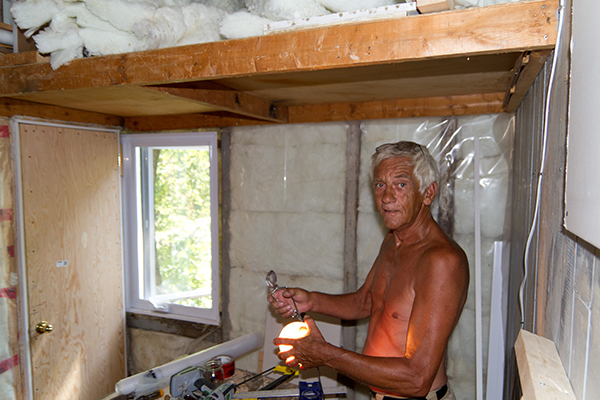 My dad with one of his epic tans. I think he was planning on upholstering a couch with a graft from his arms some day. He also showed me how to build that door from scratch because it wasn't a standard size.
The boat
Dad's labours of love are too numerous to mention but his boat was his life's magnum opus. After he built our home in Old Chelsea, Quebec, he then did what only my father would have done: he built a wooden racing-style boat hull in our basement. He invited a party of family and friends to help move it: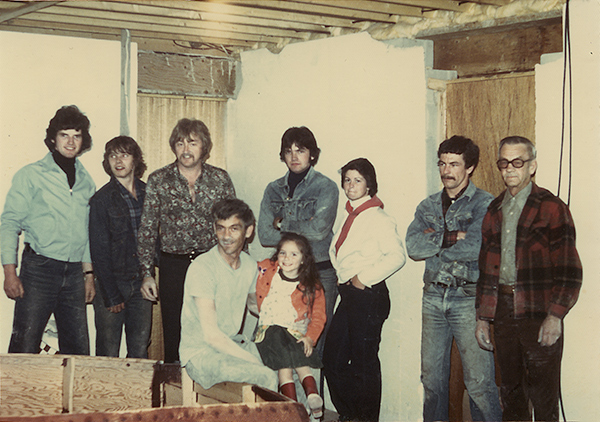 April 1977.
But that was one of the few times I saw my dad need aid for his work. This was usually as you'd find him: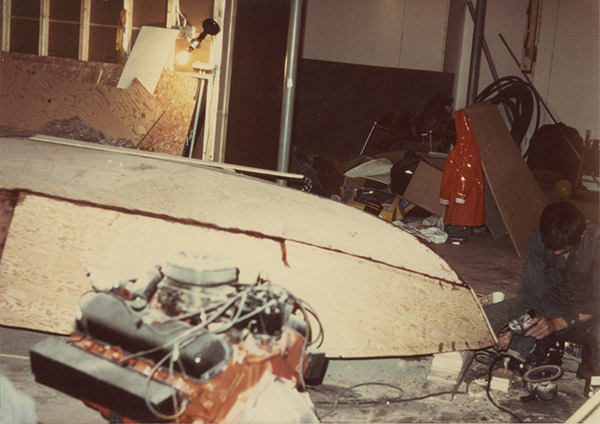 Dad alone with a task seemingly too great for one person. I think that "go big or go home" was written for him.
Then he outfitted that boat with the 454-horsepower Chevy car engine you see above: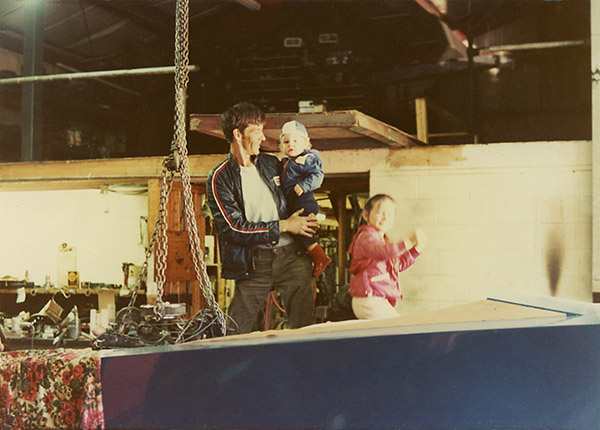 Standing with me and Sue inside of a personal project – this would have been a heavenly casserole for my father.
Needless to say, this wasn't a stock design you bought out of a catalog. But when he made something, it worked: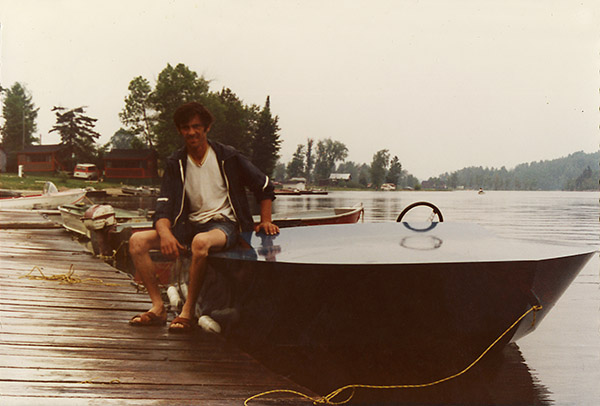 We probably have film reels around of the boat in action – it lasted for over twenty years – so I'll post later if I convert them.
But dad's boat was part of his unity of family and work. He frequently told me and my sister Sue that it was meant for those times spent with us, and it was the highlight of our camping trips as kids. My parents divorced when I was young and we lived with our mother, so camping and bringing us to the lake was what he lived for. So I got to spend my summers pulled behind a roaring, bad-ass motorboat that my dad built – it didn't get any better than that. It comforted me greatly to fall asleep to the hum of that engine through the leather seats that my dad made. I hope he knew that.
My relationship with him developed more deeply through the later years and I also grew to understand him in my genes. Frequent late nights painting sessions, the giddy feeling I get when I develop my own custom tools for my 3D software, a love for being alone with my work and for being with my few close friends, my career as a painter, an art director, a 3D artist, a coder, and a tinkerer are all my father's gifts to me that I will never squander (sorry dad, but my love for teaching and writing came from mom). His ability to be a loyal friend, a voice of reason, and a force for good are qualities I try to emulate.
But his biggest unspoken lesson was about humility. When someone would come up to admire this boat which was, even the crankiest of coots would agree, a beautiful work of craftsmanship and creative engineering – he shrugged it off, with a clear disdain for egotism. Today, when I read the word "humble," I actually think of one of those moments. I could show him some simple computer script and he would always say "you got me beat," like you were the one making magic. He was animated when he talked about the inner workings of any project but never gloated about his accomplishments. Still into the final days of his late sixties, he gushed with enthusiasm about the next thing he was working on, however small.

This is just a small thing he worked on for him and his loving wife Ivy, but you can hear the boyish excitement in his voice.
He frequently talked over our heads about his projects but it wasn't condescending, it was just that he couldn't contain his excitement for his ideas. A few weeks ago when he visited, he talked about building a high-speed, water-based cutting tool and, if he hadn't successfully built the other marvellous contraptions around him from scratch, you would have been tempted to write these off as the pipe dreams of a big talker. But my dad didn't just buy tools, he built them. He made a circuit-board printer out of a hacked plotter and his friend John wrote the software for it. That thing built boards for other projects. He made a little mock solar panel that would turn and roll to seek out the most light. You could probably guess that it wasn't hard to spot my school science projects as a dad-job.
The last of his finished tools was a CNC milling machine that took him a year to complete and he was proud that it got 1/4000th of an inch accuracy – something that would cost you $200K if you bought a similar machine from a manufacturer. Like I said, he was dangerous. He was using this milling machine to develop parts for his last project – an industrial air filter. He emailed me the Solidworks sketches of it but it contributed heavily to his growing sickness, so I can't stand to look at it again.
Dad described his father as incredibly hard working and it terrified me to think of what that meant, considering his work ethic. That would explain why my grandfather was always financially strapped — doctors bills combined with ulcers back before there was public healthcare in Ontario. One of the few things I remember about my grandfather was his workshop, which was littered with empty Tums antacid canisters.
But my father had his own ills that were more severe. It seemed like his passionate affair with ideas could not be stopped but his sickness sadly beat him. In the end, the only thing stronger than dad's will to create and love was his need to escape the opaque, charcoal cloud that ebbed in and out of his world at different times of his life. He left us on the blackest of Fridays in the darkest of ways, outwitting our best efforts to keep him alive. If he wasn't so god-damn good at what he did, he might have failed on his first attempt and given us a chance to help him. But dad was successful, even in his tragic failure. He should have given the job to a lesser person – which would have been easy to find because my father, John Leslie Girard, was extraordinary.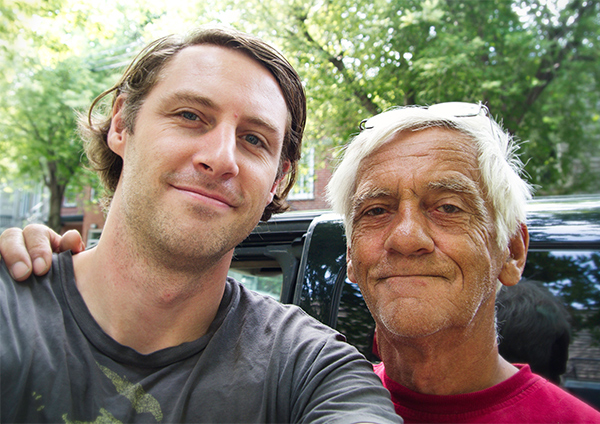 I debated talking about dad's suicide publicly, or even using that word, because it can seem to tarnish these great memories of him. But I think it was his pride and the stigma of men of his generation talking about mental illness or the need for medication that forced him into increased isolation. To deny how people like my father died is also to deny how they lived: suffering and in need of our help. It's by talking about this issue that we can hopefully help others avoid a similar fate because it is the second time my family has lost a man who could have enjoyed his retirement years to a cocktail of foolish pride, old-world thinking and severe depression. My father was basking in the love of bi-weekly grandchildren visits and tickle fights, and he still went from troubled to gone in the span of a few months, so don't underestimate the power or urgency of depression.
But don't be ignorant of its workings either because misunderstanding it can be just as dangerous. Don't confuse depression with your experience of sadness – if you don't know about its unique symptoms like intrusive thoughts, something that plagued my father in his darkest times, then you may only push them away by misunderstanding. Creative individuals who suffer from depression frequently isolate themselves with their work because dealing with people is too difficult – the anxiety compounds exponentially and it is like being in hot water. You may be the person they love most in the world but they have to get away from you regardlessly. It is not rational and it is relentless. They wear a leaden cloak that makes everything profoundly difficult. It is not sadness – it is a dearth of emotion and it eats at concentration and focus, so it is especially deadly to creative people because it isolates them in their work and then it makes their work suffer. They lose everything.
As it is, I would have given anything to have more time with my father but now I have to comfort myself by knowing that his suffering has ended.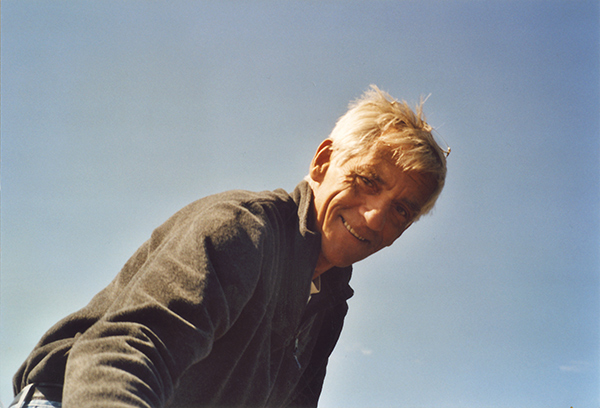 To my stepmother Ivy, I am eternally grateful that you gave dad unconditional love and tried desperately to save him from himself – I know it was a full time job. To my father, who I continue to understand in my genes and the blips of him that emerge through my daily thoughts and expressions, I do have one last thing to say:
Dad, you left one of your hammers in my studio. I promise to put it to good use but I may end up with blackened fingers – I'll be hammering with tears in my eyes and a broken heart.
barbl99 asked: I am sure I am going to appear to be an imbecile with my question(s). I am beginner level-BRIGHT GREEN-to animation. Was enrolled in a web design program , did a flash animation, loved it,switched programs. Have an iMac, now being told I should buy a PC? "You won't be able to use ParentMaster plug in for Maya to attach/detach", "everyone in the field uses PCs not Macs". I don't even know (yet) half of what they're talking about. Is there a resource for a blank slate like me on this? Thank you
Everyone is biased to what they use so it's going to be hard to get honest feedback for this question. I use Maya on all three OSes often and learned Maya in Windows back when it wasn't available on OS X and then switched to the Mac version. But the "everyone uses X" is actually a lie. The majority of independent Maya users are on Windows but if you work in the 3D for film/VFX industry, that is dominated by Linux. Technically speaking, that's a majority of users on PCs but that's not a reason to pick a platform. Maya plug-in availability is better on Windows but it sounds like you're learning and you should try to avoid solving problems with plug-ins while learning because it creates a dependency on them and sometimes they stop getting updated. That's one of the reasons I'm looking forward to V-Ray support for XGen – waiting months and months for Shave and a Haircut update for the latest Maya version is a pain in the ass. 
But the Parent Master script you mention works on all platforms and scripts don't tend to break with new Maya versions like plug-ins do, so go ahead and use it and other scripts. If you see a script on Creative Crash that says "Windows" as the only supported platform, that's probably untrue since it's very hard to make a script that doesn't work on all three platforms. It's just that the person who wrote the script only tested it on Windows, so they don't want to write "works on OS X and Linux" without having tested that. 
But use the platform that you want to use. If you like OS X, use OS X because you're going to be a lot unhappier using Windows as a Mac user than you are going to be as a Windows user with a few more plug-in and hardware options. If you want to build a PC to help with final renders, go that route and use the Mac for your workstation/host machine. I did that and there is a guy on Creative Crash doing exactly that here
I have a Linux render slave box that doubles as a Windows gaming machine and V-Ray's automatic asset transfer in recent nightly builds means that I don't have to care about sharing texture directories (this is coming in the official 3.0 release). V-Ray Slave licenses are also free. After tedious issues with using Windows as the slave OS (fans constantly spinning up and spinning down like a man catching his breath), I stopped running it in Windows and only run that for games. So this is what my desk looks like right now: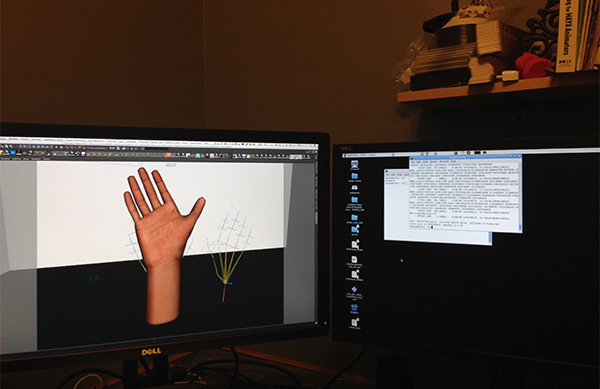 OS X at the left, Linux at the right.
Every platform has it's strengths and weaknesses.If you read my article on creating the ultimate creative content OS from parts of Mac OS X, Windows and Linux, you'll get an idea of the strengths and weaknesses of each platform. Linux and OS X are far better at multitasking than Windows (you can work while you render without having to drop process priority or give a CPU core to other tasks), Windows has more 3D programs but, if you need to use a Windows-only 3D app infrequently, a virtual machine works fine. My Max model conversions for Turbosquid are built and rendered in a Parallels Desktop VM. 
If you want to learn about what is used in the industry, that is easy. If you work in game development, it is completely dominated by Windows, but even Windows 3D game development people curse that dependence:

If that guy had the option to do game development on OS X, he probably would. A Unix OS like OS X will actually be closer to what they use in larger companies in the VFX industry, which is completely Linux dominated. If you learn how to do shell scripting in OS X's terminal, that will translate directly into Linux knowledge without having to do the crap that Linux is bad at: like manual editing of grub configs or solving audio issues. Every time my Linux machine wakes from sleep, I have to disconnect and reconnect its Wacom tablet or it won't work. The Mac's hardware options are more limited but you get a lot of peace of mind that you don't get with Windows or Linux. You can work with very little getting in your way. Under a tight deadline, that is worth more to me than a couple more plug-in options.