OS X 10.7 Lion and 3D/2D apps: What's New, What Works and What's Broke
So OS X 10.7 is almost out and a lot of 3D/2D people (2D people look funny) are asking me for advice on whether they should jump in right away or wait. I've been running the developer previews and now the golden master (GM) build for a while now and doing my work on it (yes, I'm dumb that way but I can't turn away something shiny if it works). Many Maya users saw this post from Autodesk about the official Maya support and 10.7, which says that 10.7 is not officially supported yet, due to some problems:
Installing Maya on Mac OS X 10.7 may cause the installer to hang.
Operating Maya on Mac OS X 10.7 may cause stability issues.
When submitting a crash report while operating Maya on Mac OS X 10.7, may cause the crash error reporting system to hang.
The first problem is that the installer might fail to exit gracefully, even though everything is actually installed fine. I have had to force quit the installer at the end but everything is fine. Activation runs smoothly and you're not going to have any problems with that. The second point sounds like a dug up reason to make the case not to install. I haven't had a single kernel panic with Maya and it runs just as smoothly (and unsmoothly - this is Maya after all) as usual. It's actually more stable thanks to Apple's GL fixes. The Radeon cards kernel panic with Maya 2012's Viewport 2 Depth of Field is fixed and Mudbox's kernel panics with the Quadro 4000 Mac edition are gone. The last point about the crash report didn't seem to affect Maya in my experience. I did notice that Mudbox's error reporting could hang, so if you get a crash with Mudbox, you might end up with a stuck senddmp process in Activity Monitor, which you need to force quit. I'm not sure that this isn't a problem in 10.6.8 but anyway, it doesn't seem to affect Maya. Maya runs flawlessly for me and I can understand Autodesk's apprehension about certifying 10.7 since there is the issue with the installer but it's scarier looking than the actual problem (a stuck finished installer).
Otherwise, what works?:
Pretty much everything. I've been using it extensively with everything in my day-to-day production for both 3D and design and all these work flawlessly, from what I can tell:
3D apps:
Maya 2012 x64 and all my renderers (mental ray, V-Ray 2, Maxwell)
Mudbox 2012 SP2
ZBrush 4
Topogun 1 and 2 beta
Octane Render with CUDA 4.0.17 and the Quadro 4000 Mac Edition
CrazyBump Mac beta
Realflow 5
3D-Coat (tried briefly - works)
2D and Design Apps:
All Adobe Creative Suite 5.5 apps (Photoshop, Indesign, Illustrator, Acrobat Pro used most)
Adobe Lightroom 3.4.1
Expression Media
Photozoom Pro 4
Painter 12
Utilities:
FontExplorer X font manager
Screenflow 2.1.9 
Spamsieve (awesome spam filter for Mail.app)
Things
CodeBox
BBEdit
Toast Titanium (burnt DVDs and Blu-ray disks no problem)
Handbrake
iKey
Parallels Desktop 6 (no crashes, all virtual machines working fine with 3D support in Windows 7)
PS3 Media Player (once you download the Java runtime, which OS X downloads when it detects you want to run a Java app)
BetterZip
Built-in Cisco VPN works fine (use it for magazine client)
Photostickies
DragThing
Alfred
Default Folder X (get this if you're not using it)
Pages/iWork
VLC
Harmony Remote
1Password and all browser plug-ins
In other words, you'd have a hard time finding a common app that doesn't work with 10.7
Devices
Wacom Intuos 3
Epson Perfection 4990 Photo Scanner
Epson R1900
I found that restored startup states in 10.7 can leave your Wacom driver unloaded until the end of restoring the state, which seems to be slower than it should be (up to 20 seconds on a 6GB/sec SSD). It's a great feature but I think the kinks aren't completely worked out.
What doesn't work:
Headus UV Layout (Update: now works as of 2011-07-31)
OpenCL with the Quadro 4000 Mac Edition is still AWOL (blame Apple for this)
Houdini Apprentice (and presumably Master) doesn't launch. It just crashes.(Update: now works as of builds 11.0.797)
Nuke 6.2v4 64-bit. 32-bit working fine but 64-bit crashes at launch. (Update: 64-bit now works fine as of Nuke 6.3v2)
I mentioned in a previous post that the ~/Library folder is now hidden. See the post for the tip to unhide it.
Bugs:
Overall, it's rock solid. I think I might have had one kernel panic during the earlier dev builds but I haven't had one on any of the later or GM builds with either the Radeon 5870 or Quadro 4000 Mac edition installed. Considering that I was running things like games in Parallels Desktop and Maya at the same time, we can assume this thing is solid. I've noticed a few bugs in the GM and logged them. Some Automator actions with shell scripts don't work. Because of Lion's new authentication system for VNC, my iTeleport iOS VNC client isn't able to get past the login screen so if you depend on VNC, don't upgrade until you know this is addressed by your client app. The Colorsync Profiles folder has bad permissions so calibrating my NEC Spectraviews failed because it couldn't write the ICC profile: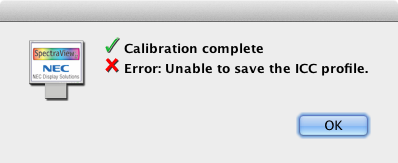 That was easily fixed with these shell commands:
sudo chmod 777 ~/Library/ColorSync/Profiles/
sudo chmod 777 /Library/ColorSync/Profiles/
After that, the calibration worked fine and the ICC profile was written for both my Spectraview displays.
So, what's new for graphics people in 10.7? With all the hype about Back to Mac, some things are getting lost in the PR. There are some cool additions, a few of which I'll cover here.
OpenGL 3.2:
Maybe we'll finally see Mari for OS X now that this requirement for the app is filled. I know The Foundry had internal builds for OS X that were waiting on this so it's not far fetched. Still would likely require a Mac Quadro though, if it came.
Finder additions:
Collect multiple selected items to a single folder:
Terminal.app now has a Service for opening man pages for the selected text:
That's much better than using it inside a shell, since that window has a friendly scroll bar.
Resize windows from all sides.
This is one of those things that I've wanted for a long time and all apps now get this for free in OS X 10.7:
Spotlight Improvements
Image or document preview in Spotlight menu: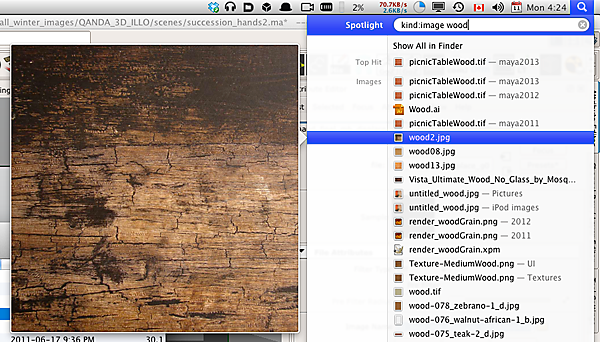 Versions
This is like a versioning system like Git but done locally. For Cocoa apps that support it, you can go back to previous saved versions of the file, interactively going back in time similar to Time Machine but much more granular (not based on hourly backups):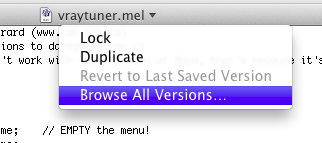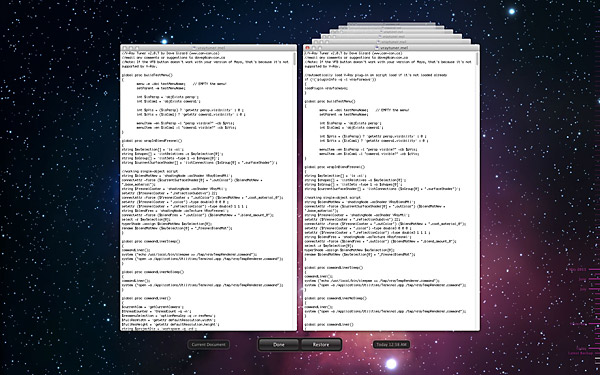 Click for full size. I can't wait for this in BBEdit or TextMate (feature fight!).
Mission Control
Updated Spaces multiple desktops. Maya floating over apps while processing something? Just drag it to another space:
If you grab the icon for the app, you can drag all its windows to the other space at once.
Anyway, keep your eyes peeled for John Siracusa's always-epic OS X review of 10.7 on Ars Technica in the coming weeks for a full run-through of what's new in Lion.