barbl99 asked: I am sure I am going to appear to be an imbecile with my question(s). I am beginner level-BRIGHT GREEN-to animation. Was enrolled in a web design program , did a flash animation, loved it,switched programs. Have an iMac, now being told I should buy a PC? "You won't be able to use ParentMaster plug in for Maya to attach/detach", "everyone in the field uses PCs not Macs". I don't even know (yet) half of what they're talking about. Is there a resource for a blank slate like me on this? Thank you
Everyone is biased to what they use so it's going to be hard to get honest feedback for this question. I use Maya on all three OSes often and learned Maya in Windows back when it wasn't available on OS X and then switched to the Mac version. But the "everyone uses X" is actually a lie. The majority of independent Maya users are on Windows but if you work in the 3D for film/VFX industry, that is dominated by Linux. Technically speaking, that's a majority of users on PCs but that's not a reason to pick a platform. Maya plug-in availability is better on Windows but it sounds like you're learning and you should try to avoid solving problems with plug-ins while learning because it creates a dependency on them and sometimes they stop getting updated. That's one of the reasons I'm looking forward to V-Ray support for XGen – waiting months and months for Shave and a Haircut update for the latest Maya version is a pain in the ass. 
But the Parent Master script you mention works on all platforms and scripts don't tend to break with new Maya versions like plug-ins do, so go ahead and use it and other scripts. If you see a script on Creative Crash that says "Windows" as the only supported platform, that's probably untrue since it's very hard to make a script that doesn't work on all three platforms. It's just that the person who wrote the script only tested it on Windows, so they don't want to write "works on OS X and Linux" without having tested that. 
But use the platform that you want to use. If you like OS X, use OS X because you're going to be a lot unhappier using Windows as a Mac user than you are going to be as a Windows user with a few more plug-in and hardware options. If you want to build a PC to help with final renders, go that route and use the Mac for your workstation/host machine. I did that and there is a guy on Creative Crash doing exactly that here
I have a Linux render slave box that doubles as a Windows gaming machine and V-Ray's automatic asset transfer in recent nightly builds means that I don't have to care about sharing texture directories (this is coming in the official 3.0 release). V-Ray Slave licenses are also free. After tedious issues with using Windows as the slave OS (fans constantly spinning up and spinning down like a man catching his breath), I stopped running it in Windows and only run that for games. So this is what my desk looks like right now: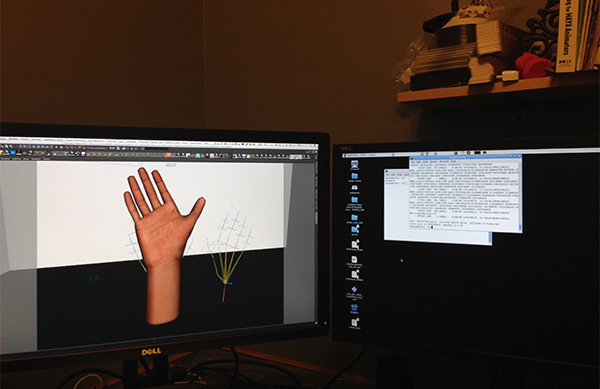 OS X at the left, Linux at the right.
Every platform has it's strengths and weaknesses.If you read my article on creating the ultimate creative content OS from parts of Mac OS X, Windows and Linux, you'll get an idea of the strengths and weaknesses of each platform. Linux and OS X are far better at multitasking than Windows (you can work while you render without having to drop process priority or give a CPU core to other tasks), Windows has more 3D programs but, if you need to use a Windows-only 3D app infrequently, a virtual machine works fine. My Max model conversions for Turbosquid are built and rendered in a Parallels Desktop VM. 
If you want to learn about what is used in the industry, that is easy. If you work in game development, it is completely dominated by Windows, but even Windows 3D game development people curse that dependence:

If that guy had the option to do game development on OS X, he probably would. A Unix OS like OS X will actually be closer to what they use in larger companies in the VFX industry, which is completely Linux dominated. If you learn how to do shell scripting in OS X's terminal, that will translate directly into Linux knowledge without having to do the crap that Linux is bad at: like manual editing of grub configs or solving audio issues. Every time my Linux machine wakes from sleep, I have to disconnect and reconnect its Wacom tablet or it won't work. The Mac's hardware options are more limited but you get a lot of peace of mind that you don't get with Windows or Linux. You can work with very little getting in your way. Under a tight deadline, that is worth more to me than a couple more plug-in options.
Windownaut Review: Excellent OS X Window Manager on the Cheap
If you read my Ultimate Creative OS piece for Ars Technica, you'll know that I like the window management tools that were added in Windows 7. You can drag to a side of the screen for non-Metro apps and the window will take up a perfect half, making it really easy to set up two windows on a single display. Well, there are tons of window management utilities for OS X and some, like Windownaut have this edge threshold feature and a lot more. You can assign hotkeys to a ton of different window layouts and there is a dropdown menu bar item to manage active windows. You can even right-click the OS X window widgets to get the window management options: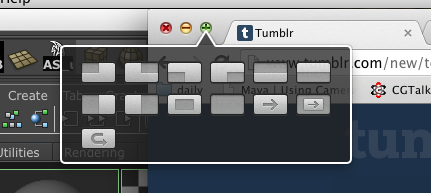 It adds the ability to resize and move windows without having to grab the borders. See it in action in this little demo within Maya:
Overall, this is a ridiculously capable helper that doesn't add any instability to your OS X environment and, at $4.99, it's cheaper than others like Optimal Layout, which I bought a while ago but don't use anymore. Seriously, get this. In the interests of full disclosure, I must admit that I like this software. I have no affiliation to any software reviewed here.
Spotlight Relinker: A MEL Script That Uses OS X's Search Capabilities to Relink Missing Files
A lot of people wonder why I use a Mac to do 3D. There are more 3D apps for Windows, Linux has faster OpenGL speeds than both other the OSes that Maya runs on and the hardware choices are more limited. Well, this script sums up a lot of why I use it: incredible scriptability and a bridge between GUI tools like Spotlight search and the command line. If you read my article Creating the Ultimate Creative User OS, then you know what I'm talking about. OS X has all the command line goodies of Linux but it also has its own great tools like Spotlight that has a command line equivalent built into OS X (it's called mdfind) and it is infinitely faster than the find command in Linux distros and OS X. So, after getting tired of hunting down linked media in an old Maya scene that had links to old hard drives, moved stock image folders, etc., I made a script that uses mdfind to quickly track down the media by name, take the first result and make a MEL command file that you then drag into the Script Editor to do your relinking:
The script obviously assumes that your files are intelligently named. You're not going to want to use this if you have a ton of different textures are all named "file.tif" but if you have unique names, this should save you a ton of time if you're on OS X.
Anyway, without further ado, here is the script.
Mac Maya Users: Speed Up the Viewport by Hiding the Help Line
So, after a discussion on CGSociety about a viewport lag that was introduced in Maya for OS X after version 2011, it seems that the culprit is the Help Line. Until this bug is fixed, you can give Maya 2012 and later a slight bump in FPS on OS X by hiding the Help Line. Now someone needs to find out how to fix the f, [ and ] hotkeys that stop working – that plagues all platforms and it's super annoying.
Maya/Mudbox/Autodesk 2014 App Users: Don't Upgrade to Mavericks Quite Yet
Update: fix for Maya 2014 released: grab it here.

Just a small warning about OS X Mavericks that should hopefully prevent some unwelcome headaches for people running Autodesk 3D apps on OS X. I am running Mavericks now and did some testing with the betas and, while all previous versions work fine (2013 included) there is a critical issue with Adlm (the license software) and the 2014 Autodesk products that prevent them from activating. It's fine if you upgrade an existing OS X install that has the programs already activated but it will fail to activate new licenses for Maya 2014 or Mudbox 2014, etc. This has to do with how the FLEX license manager does weird stuff to try and hide licenses from your OS in a partition, from what I understand. It's a hack to allow demos that time out. Autodesk knows about it and is releasing a fix any day now – I'll update this post when it's released.
Otherwise, I would say that, if you are fine with your system now, you might want to wait a few weeks because there are a lot of changes to OpenGL in Mavericks that could affect your system or apps. You get a warning that the Adobe Creative Cloud software isn't supported yet but Photoshop CC works fine on my end. Anyway, I need Mavericks for Mari and AMD support on OS X. It's a solid release and has some amazing tech in it – read here for all full rundown and review. I would just be careful before fixing what isn't broken until the kinks have been worked out. I know that Mari tessellation preview for AMD cards, for example, is in need of a bug fix that's coming soon as well. I've also heard of one Nvidia user having issues with ZBrush but it works fine for me. But I definitely recommend the upgrade. OpenGL 4.1 is finally included and the upgrade is completely free. If you're on a mobile machine, the extra battery life is great and pros will benefit from better multi-monitor support, SMB 2.0 inclusion and tag metadata, to name a few things. But, if you want to be extra safe and prevent the new OS' power saving features from tinkering with your graphics apps, consider turning off App Nap in the program's Get Info panel: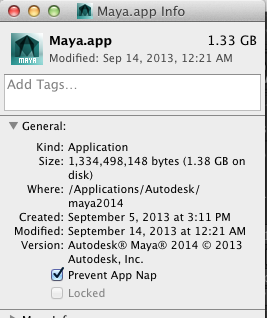 As I mentioned before, the Library folder for your home directory can now be re-shown in the Get Info panel for the Home folder too. If you have applications like Windownaut that depend on Access for Assistive Devices, that has been moved to the Security and Privacy preference pane: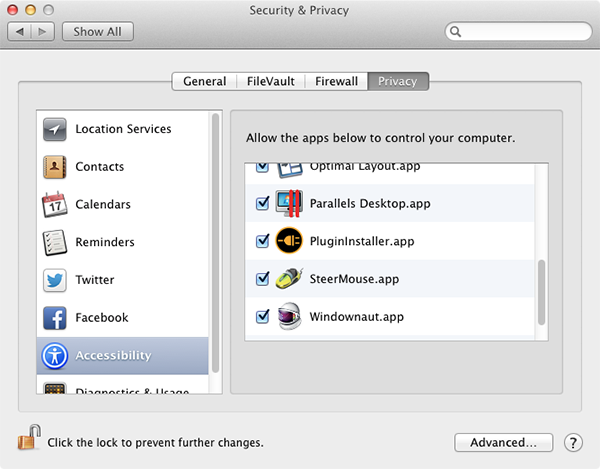 Anyway, stay tuned for my eventual Xeon E5 V2 Mac Pro 2013 review for Ars Technica. Apple said that machine is coming in December.
Quick L'Ecorché Desktop for OS X Review – You Need This
If you work on character design or with figure sculpting, it's crucial to have an anatomy reference on hand. The respected anatomy app L'ecorché came out a while ago for iPad and iPhone but yesterday my iPad was in my painting studio and I wanted access to L'ecorché while I sculpted in ZBrush and thought "wouldn't it be great if they had a desktop version?" So I checked online and was pleasantly surprised to find it exists in Mac OS X application form. So I bought it and here it is with it's resizable window and even a handy library of bone diagrams: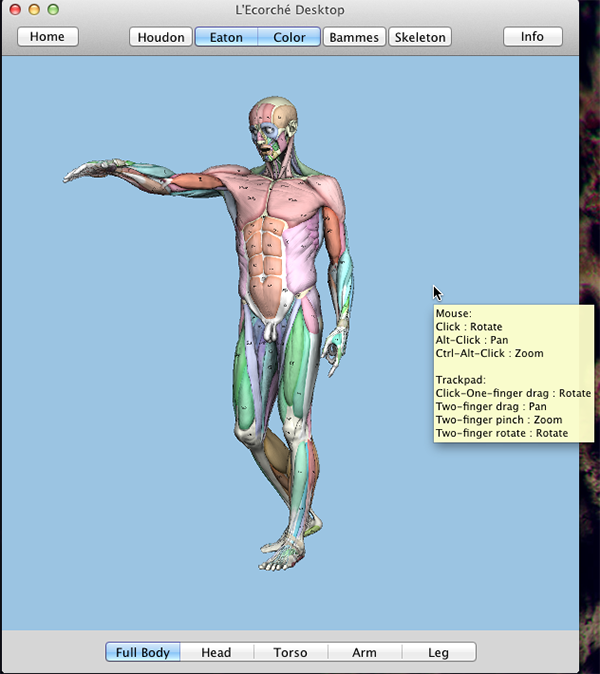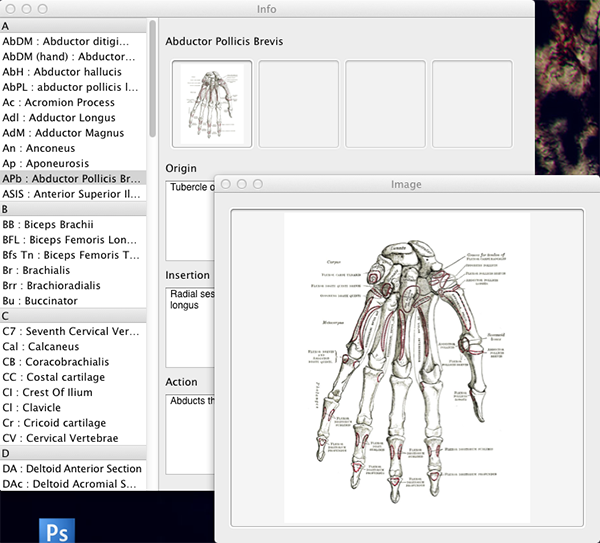 One of the nice benefits of the popularity of the iPhone and iPad is that it is pretty easy for people port the Cocoa code from those apps to OS X. Usually this just means there are a lot of cheesy Gameloft mobile games available in desktop wrappers, but this is one of those good exceptions. As a program, it makes perfect sense and the OS X version has the ability to float on top of other apps – perfect for sitting over the ZBrush window while you sculpt: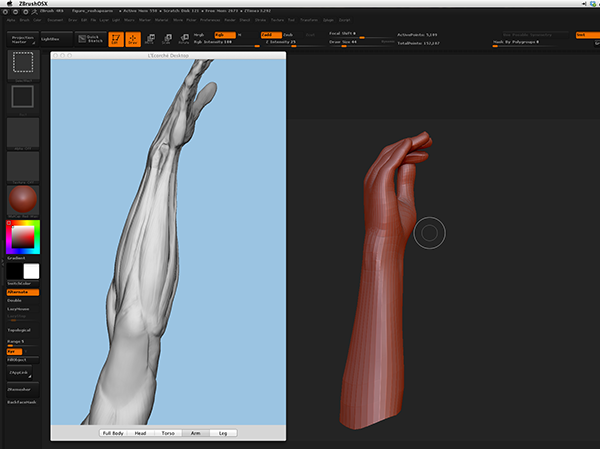 At $5, it's also an amazing price for the service it provides. Since it's sold on the Mac App Store, you get a license for all of your Macs, so you can sculpt on the road or on a desktop and only have to pay for it once.
My only complaint about L'ecorché Desktop is that the navigation scheme is not standard so you spend more time getting accustomed the rotation/zoom setup than you should. There should be an option for Maya/Cinema4D/Mari.- or ZBrush-style navigation. Also, the rotation orbit locks on axis a little too easily. If the program's developers are reading this, I'd like to request a full borderless mode toggle so you can hide all outside interface elements when floating the application over much-needed screen real estate in ZBrush.
Otherwise, if you're on OS X and do any work with figures or you just want a reference application to complement your dusty copy of Bridgeman's Life Drawing, look no further. Get this now.
"Show Library Folder" Shows Up in Mavericks Finder
I was just changing my home folder's icon settings in the Mavericks beta and stumbled on something that I haven't seen mentioned in any of the OS X 10.9 coverage: the option to show the ~/Library folder. Open your home folder and then open the Get Info panel and…

Rejoice! Newbs will no longer wreak havoc on their application settings by deleting it and power users will no longer have to use "chflags nohidden ~/Library" every time they install a system update that rehides it.
Using the Clipboard as a Working Buffer: Automator for Apps that Don't Support Automator
If you use a text editor like TextMate, BBEdit or even Chrome in OS X, you get full support for Automator's text replacement features but some applications don't use the Cocoa classes for their text boxes so they don't get access to these. Nevertheless, there is a good workaround for these cases when you want to filter text in one of these Automator-unaware applications: send the clipboard to your Automator script and send the output back to the clipboard. As I mentioned in my recent Ars Technica article, OS X has a ton of command line applications to bridge the GUI and cl (open, say, etc) and they have two built-ins for clipboard manipulation – "pbcopy" and "pbpaste" – which can be used to send text to the clipboard (pbcopy) or echo the clipboard into stdout (pbpaste). So, if I want to take some attribute text from the Maya Script Editor and turn it into a variable, it's easily done by using this clipboard buffer setup in an Automator service: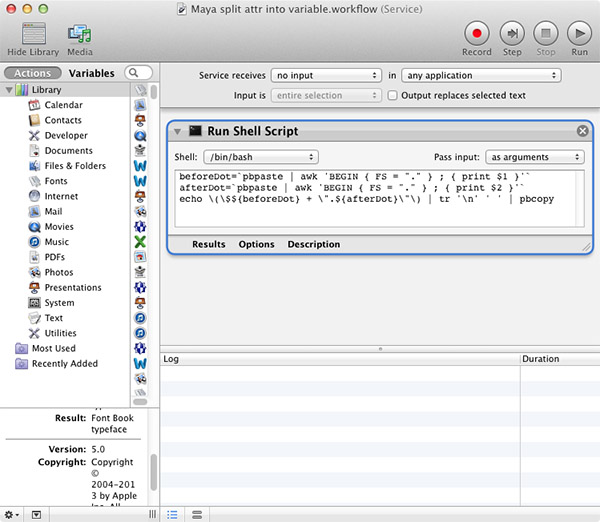 See it in action:
That service can be bound to a hotkey in the Keyboard panel of the System Preferences for extra speediness.
A Future-Proof Automator Service to Launch a Maya Instance
If you want to run another instance of any program on OS X, you have to do it from the terminal with the "open -n" command. I have an alias in .bashrc that will do this for Maya 2014:
alias 2014='open -n /Applications/Autodesk/maya2014/Maya.app'
So, when I type "2014" in the terminal, it opens another instance if Maya is already running. But, since I tend to run both older versions on occasion alongside betas, I thought I'd make something a little more flexible with an input launch whatever version. So I made an Automator service to launch another instance with a prompt for the version you want to launch:
Download the Automator Service here. If you want to change the default version in the text input field, just open it in Automator and change it yourself. Future proof.
Creating the Ultimate Creative User OS: My Ars Technica Article
I wrote a piece for Ars Technica about how to build the ultimate creative user-oriented OS by taking parts from all the big dogs of the OS world. Check it out.