Mari Me 1.1 Fixes Windows Texture Paths Issue and Adds New Stuff
Aside from the texture path bug for Windows machines that's been fixed, I've been steadily adding things to Mari Me (Download) that I think will be welcome additions: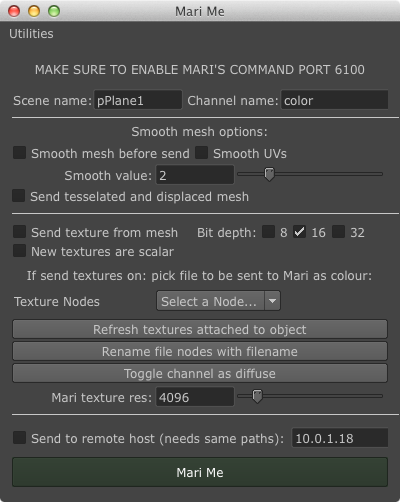 From the changelog:
Added ability to make scalar channels for new scenes. Extisting textures sent from Maya are always sent as gamma-correct RGB though, so if you want to change those, you'll have to do it from Mari once it's sent
Added bit depth option for channels
Added ability to send stuff to remote Mari host. Change the IP in the MEL file to your machine – it's set to one of my Linux machines' local IP. This requires that the paths be the same, so if you are sharing a Mac folder to Linux Mari host, you'll need to mount shares to /Volumes/etc/ to mimic the paths on the Mac. It's for this reason that there is no way to send to Windows machine from Linux or Mac because they don't have a Unix style path structure. You could send from Win to Win but your shares would similarly have to be exactly the same path, which isn't likely given drive letters. Microsoft needs to put a bullet in the head of those things because they are a constant issue when trying to make scripts for Windows
Added custom name option for created channels
Added Rename file nodes with filename script so it's easier to navigate File Nodes list
Resized buttons because they were XBone huge
Fixed Windows paths for textures
Also, I've added a Utilities menu where I'll start to add things that you'll want to do inside of Maya for a workflow that involves Mari. Stuff like this UV Tile GUI to move and maximize UV shell space across UDIMs:
and I have put my AutoTileMe script in the Utils menu as well:
It now graphs the File node network at the end so you can see the structure and clearly know which to connect to your shader (the top one in the hierarchy).
Lastly, the Just Save OBJs script in the Utilities menu saves out an OBJ for selected objects to a project/GoZ folder for use with Mari (or ZBrush) with nothing sent to Mari. I'll eventually update that to work with the smoothing and displacement options.
OS X and Linux Users: Remove the .mayaSwatches and .vrayThumbs Folders With a Shell Script
Maya and V-Ray leave material swatch previews strewn throughout your system, so I clean these out all at once every once in a while. With this single terminal line in bash, on both OS X and Linux, you can make a script that will be ready to remove the folders for you. For .mayaSwatches:
find / -name ".mayaSwatches" -print | sed 's/.*/rm -rf "&"/g' > ~/Desktop/delete_mayaswatches.sh; chmod +x ~/Desktop/delete_mayaswatches.sh

and for .vrayThumbs:
find / -name ".vrayThumbs" -print | sed 's/.*/rm -rf "&"/g' > ~/Desktop/delete_vrayThumbs.sh; chmod +x ~/Desktop/delete_vrayThumbs.sh

It will bark about not having permission to read some directories since you're not using sudo but you don't want to do it for all users and you don't need to comb system folders for this anyway. The script itself doesn't do anything until you run it in the terminal, and you can open it in a text editor to verify that nothing harmful is done by it: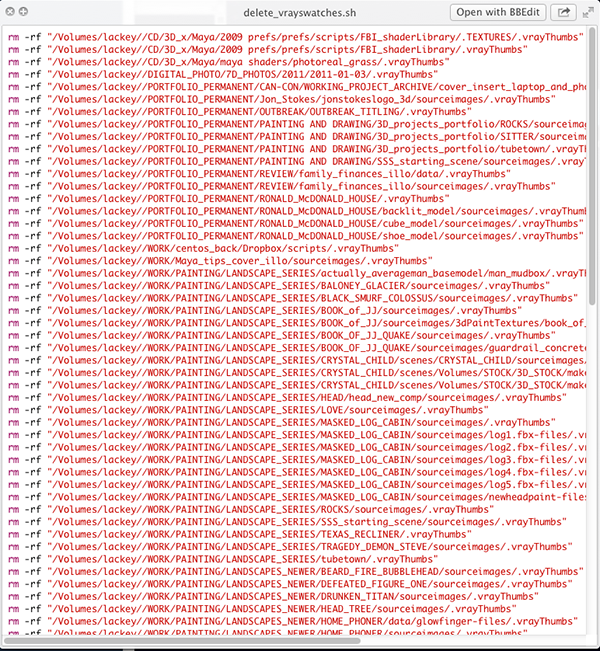 Nevertheless, this post comes with heaping portions of "use at your own risk."
After you're confident that it's not going to nuke anything you don't want to nuke, drag the script into the terminal window to run it. Wait for it to finish and those folders will be gone.
Mari Me 1.0 – A Send to Mari Script for Maya
So, after tiring of Mari's new project panel and its non-OS version of its open dialog, I decided to make a script (Download here) that sends the selected mesh from Maya to Mari for painting. It has some nice options that I think will be welcome: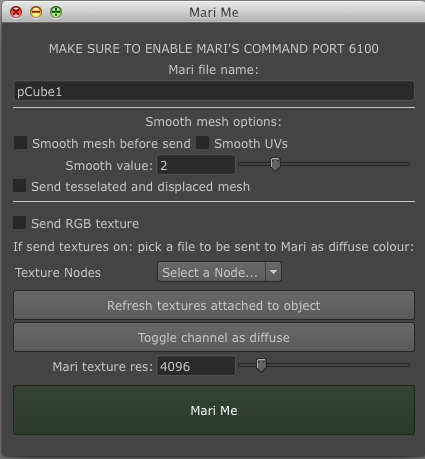 The features are shown in the video here:
If you don't choose to send an existing texture, it will create a 50% grey "color" channel that is set to the resolution of the slider, which snaps to Mari's supported resolutions.
I added the ability to send a tessellated and displaced mesh even though I know that Mari does displacement previews but these don't use your actual values from your existing Maya model so this script creates a mesh that is closer to what will render. It's not the best solution since the geometry can be really jaggy but it's better than nothing. Just make sure you only run this displacement script on cage-type geometry because it smooths the mesh and then tessellates so it will extremely slow if it's a already high-ish res mesh.
As you can see from the video, I originally made this script to send Python to the clipboard since I didn't see any documentation for the command port that is used by Nuke to talk to Mari but there was an example script that showed that it receives straight Python. So my script does all the gross code escaping and wraps the Python commands in a single line and passes it to Mari.
To get the script to speak to Mari, you need to make sure that Mari's command port is open to the default port of 6100. This is in the Scripts portion of the Mari preferences.

The only limitations to the script right now are that it needs to have a relatively simple material applied to the selected mesh – it will simply fail if you have a V-Ray Blend Mat applied to it, for example – a fix for this will come soonish. You also have to have a mesh selected when you run it. Also, textures are currently sent only as RGB, with no scalar option. This will come later and I'd like to add an auto-detect for the applied texture res for the slider. Tiled mats are not supported – obviously that is a dealbreaker for many but hopefully I can get that working some time in the future. I haven't tested it in Windows or Linux but it should work fine. The exported meshes are stored in a project_path/GoZ/ folder because I didn't want to create a different folder for OBJs that I use with my ZBrush meshes.
Enjoy.
Getting V-Ray Rect Lights to Show up in Maya's Viewport 2
So it turns out that V-Ray Rectangular Lights use four spotlights to achieve their display in Maya's viewport 2, so if you have some not showing up, jack up the supported light amount in viewport 2:
V-Ray Tuner 3.6 Posted for Download
Slowly getting my brain to function after the loss of my dad and put up new V-Ray Tuner version with some features:
Reload All Textures: reloads all…..wait for it….. textures.
Polygonal Displacement Preview added to material menu.
Toggle Displace As Diffuse script added to Materials menu.
Increase viewport2 preview texture size script added to Materials menu.
Lowered physical camera F-stop slider min to 0.01
Fixed Material Swapper script. It could fail if you didn't have displacement attached to the original material.
Added the ability to reapply original material to V-Ray/Maya Material Swapper script.
Dock Maya Render window script added to Render menu. This prevents it from popping up every time you want to just render using the VFB.
Apply any object's subtexture as diffuse toggle - script added to Materials menu. This is similar to the apply displace as diffuse but populates a list from the files attached to the mesh's shader:
I'm working on getting it to work with V-Ray Blend mats as well. Thanks go out to Andrew Hazelden for the list population code. That saved me tons of work.
Initial V-Ray Tuner/Refresh info that is shown in the command line feedback now includes your scene's preview resolution.
If you enjoy using V-Ray Tuner, call your parents and tell them you love them.
Maya Texture Node's Mirror U or V: the Lazy Man's Photoshop
One of the tricks I learned as a photo retoucher back in my university days was that, if you wanted to tile a texture or extend a background, the fastest way is to duplicate the layer and then flip it. When you align the edges, there will be a match at the edges, which is usually easier to clean up than a messy clone job. Well, Maya's texture nodes let you mirror your U or V texture so that this is done for you without having to head to Photoshop. For something like a plywood reference texture, it works really well:
Obviously, that seam is going to be a little obvious but I am using it as a painting reference, so I don't need to clean it up. Other textures may be less obvious when mirrored.
V-Ray for Maya Users: Prevent the Maya Render Window from Popping Up
It's almost midnight so, naturally, I'm writing rendering tips. If you use the V-Ray framebuffer – which you should because it's awesome – you know that the Maya render window will pop up at the same time as the VFB when you start renders. Every. Time. Unless you have the render window open in a pane, there is no way to avoid this until V-Ray 3.0 comes out (it apparently fixes this issue). BUT I have a good workaround that will prevent this madness from occurring again: dock the render window. Open the render window and run this MEL script:
dockControl -area right -content renderViewWindow rendEditorDC;
And you get this magic:
This only works in Maya 2011 and above since earlier versions don't have the docked Qt interface. Also, make sure to disable the Auto Resize option in the Render window because this will resize your main window every time you render, which will be incredibly annoying.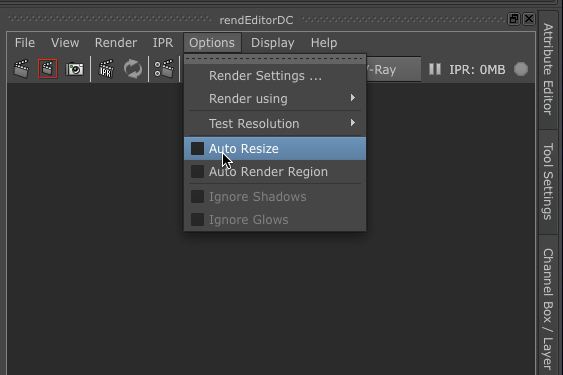 If you want to prevent Maya from barking an error every time you render with the window docked, you can edit this MEL file to prevent it from raising the Render window. Comment out the line "showWindow $i;" in renderWindowPanel.mel in the raiseRenderViewWindow proc within the /Maya.app/Contents/scripts/others/renderWindowPanel.mel file: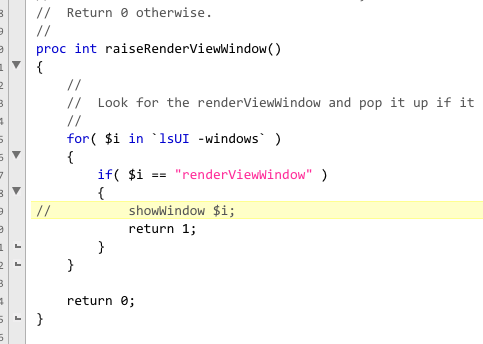 Fixing Z-Fighting and Bad Edge Culling in Maya's Viewport 2
A while back, I wrote a post about fixing Z-fighting in Maya for viewport 1 and while the same fix is still needed for viewport 2, the newer viewport also suffers from unculled edges that bleed around the object. I work in pseudo-orthographic/long focal length views a lot so the fix – increase the camera's near-clipping value – needs to be much higher for viewport 2 to address the edge problem:


Hopefully that will save you from being distracted by those weird edges.
A Couple Pics of a Female Hand Model I Just Finished
I'm relatively new to SSS shaders in V-Ray since I have only been using it for a few years and haven't needed to do much character-oriented 3D work. So I'm pleased with the results from this one. It's a model from a previous project and will be for sale on Turbosquid if you want to buy it for a project. Fully rigged and flawless rendering in V-Ray for Maya and Max.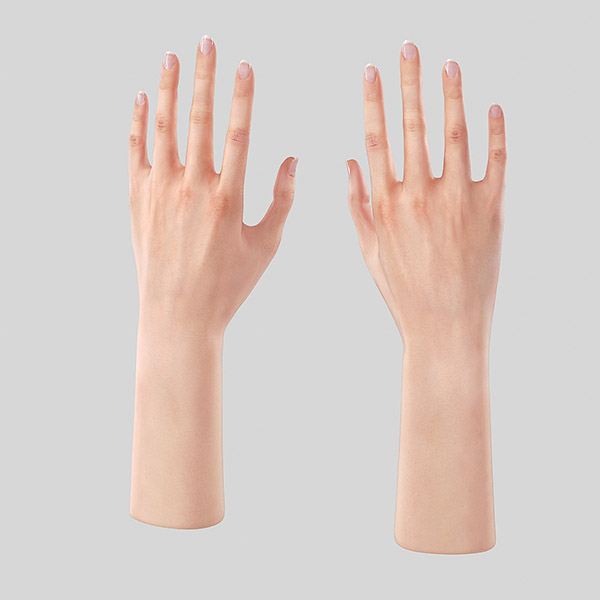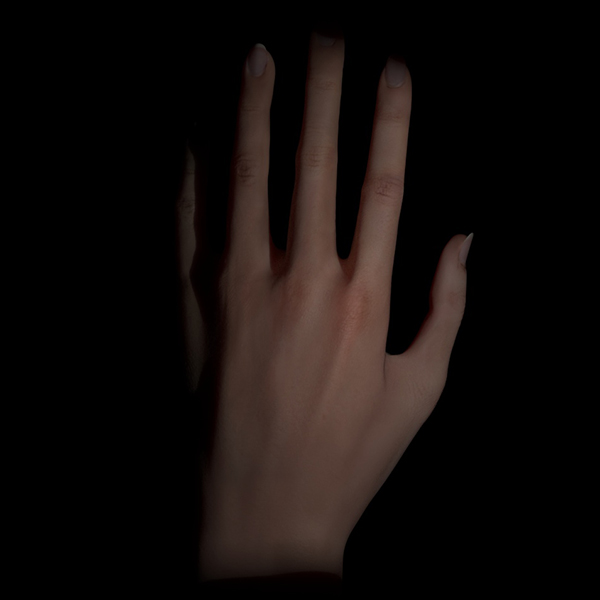 Here is a link to purchase it on Turbosquid. Palmolive sold separately.
A Script to Toggle Displacement as a Surface Shader Diffuse in Maya
If you tweak cage meshes in Maya that are to be subdivided and displaced, you end up worried about a couple things: what will happen to your seams when you do that tweak and what is the displacement going to do when applied to your tweak? As I mentioned in an earlier post, you can do a polygonal displacement preview but sometimes it is sufficient to just preview the displacement on your cage mesh in Maya. So I wrote a script that will be part of the next version of V-Ray Tuner that makes a temporary surface shader and applies the displacement map for the currently selected mesh as the diffuse colour. If you run it again, it switches back to the original shader and deletes the temp surface shader – no crap left around.
One nice feature of this script is that it uses the same file node as your material so even if you change the link to a new file you might have touched up, it will update the original shader's displacement file node even though you are previewing the surface shader. I hope you find it useful.
Grab the script here. It works with all renderers.