V-Ray Tuner 4 Beta for V-Ray 3.0 – Come and Get It
After returning from a very good SIGGRAPH, I've found some time to put up the latest version of V-Ray Tuner that has been cooking for the last number of months. I have been beta testing V-Ray 3.0 and I've added a lot of features that should cover the 3.0 user well from the beta to the release versions and beyond. Grab it here.
Warning: V-Ray 3.6 was the last version to support versions of V-Ray 2.x so it's possible that you can get errors if you use it with version 2.4. Some of the features use things like V-Ray's query options that are 3.0 only: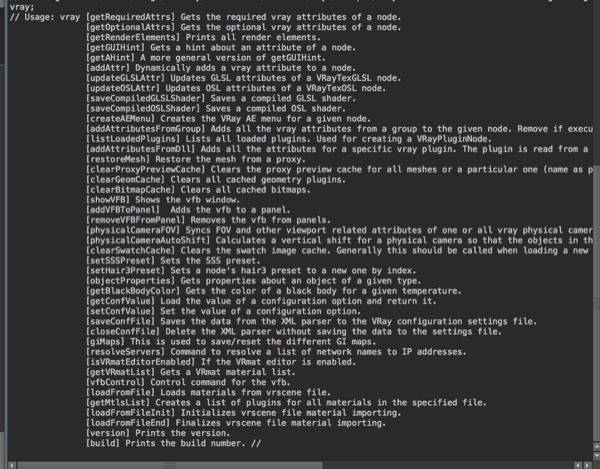 So, here are some of the additions to V-Ray Tuner 4 that I think will be well liked by V-Ray 3.0 beta and release users:
Use Environment Volume toggle added to new row of checkbox toggles to enable/disable environment fog. Great for speeding up your scene/material building and draft rendering since you don't always want fog slowing you down.
Use Embree toggle added to new row of checkbox toggles. Embree is Intel's CPU ray tracing optimization kernel that is used in V-Ray 3.0 (and RenderMan 19). If you have an Intel-based CPU, regardless of host OS, it should always be on to get the fastest render times.
Optimize script enables Embree if V-Ray version is 3 or above.
Transfer Missing Assets for DR toggle added to new row of checkbox toggles. This is the awesome new V-Ray 3.0 feature that does texture transfers in the background between Mac OS, Windows and Linux without having to use SAMBA and URL translation type fixes.
Use Local Machine for DR toggle added to new row of checkbox toggles. Good if you're using a laptop with faster machines as your slave workhorses.
Use Cached Assets toggle added to new row of checkbox toggles. Use this if you use distributed rendering since it will save uploading assets again. I've tested it extensively and the caching is now bulletproof at detecting asset changes.
See all those new things above in action here:
Another cool feature that I think will save people a lot of time:
Added V-Ray Tuner Presets manager for render settings in the Render menu. This is a nice way to create render presets that don't affect EVERYTHING like Maya's render presets do. This only affects the toggles you see represented in the V-Ray Tuner interface, so you can use a universal "Draft" setting for different resolution documents and click the load for final render settings that you prefer and only have the relevant quality features changed:
Toggle Object Sub-texture as Diffuse script now supports all material types.
Organized Materials menu into submenus for clearer outline of features and to take up less space.
Light Cache Prefilter Samples added to sliders.
Added a couple sliders to new Global Material/Light Tweaks section to do a single change to all reflection subdivs and light subdivs for quick switches from draft to final settings: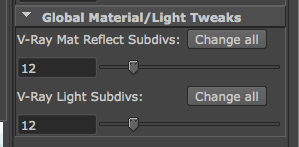 Added CUDA option to RT menu.
Added RT max noise slider to V-Ray RT sliders.
Wrap in VRayMtlWrapper added to Materials menu. Good for making mats that need to be matte bases. Select your mesh and then run the script.
Added prompt to LWFMe to see if you will manually linearize your textures and swatches. If you pick Yes, it does everything except enable "Linear Workflow" which is the dumb way to do automatic linear worklows and isn't recommended for use with V-Ray anyway. Basically, always click Yes and manually linearize your nodes unless you are using newer Maya versions with automatic colour management (2015 extension and later). I'll eventually remove the LWF setting altogether in the V-Ray Tuner UI but it's good to see that it's always off while you work.
Small fix to deGamma script to work with V-Ray mat display in viewport 2.
Three point lighter script added to Utils menu. Just adds three V-Ray Rect Lights to your scene around the object selected so you can get a basic three-point light setup. Groups the lights so you can scale and move them easily.
Anyway, enjoy and I'll post the final on Creative Crash once V-Ray 3.0 is released.
A Note About Setting Optimal V-Ray Settings for Distributed Rendering
It's possible if you're a V-Ray user that you're wasting time when doing distributed rendering with V-Ray light caches. A while ago, I added a modification to V-Ray Tuner that prompts you if you hit the Optimize button when using distributed rendering is enabled. It will ask for the max threads of the machine with the most threads. While the final render will always use the right amount of threads for your slave, the light cache passes should be set to the max thread count for all machines. So if you have three machines in your DR list with the following configs:
machine 1: 6 cores/12threads
machine 2: 16 cores/32 threads
machine 3: 8 cores/16 threads
You should set the light cache passes to 32. Or just enter 32 in the Optimize prompt in V-Ray Tuner. This won't cause issues for your machines with fewer cores/threads. If you aren't using DR, it will set the LC passes and render settings to use the max threads for your host machine, without a prompt. Some people may be avoiding the Optimize button because they don't want it screwing with your setup or scene but it just does this minimal setup. I also hate scripts that do mystical magic to your stuff to make it faster, leaving you to guess what it's modified. Any feature in V-Ray Tuner that deals with quality will always be very clear about what it is changing so there are no surprises.
Stay tuned to read about V-Ray Tuner 4 features. I have added a bunch of things like a Distributed Render slave manager that should save people plenty of time when dealing with networked nodes.
V-Ray Tuner 3.6 Posted for Download
Slowly getting my brain to function after the loss of my dad and put up new V-Ray Tuner version with some features:
Reload All Textures: reloads all…..wait for it….. textures.
Polygonal Displacement Preview added to material menu.
Toggle Displace As Diffuse script added to Materials menu.
Increase viewport2 preview texture size script added to Materials menu.
Lowered physical camera F-stop slider min to 0.01
Fixed Material Swapper script. It could fail if you didn't have displacement attached to the original material.
Added the ability to reapply original material to V-Ray/Maya Material Swapper script.
Dock Maya Render window script added to Render menu. This prevents it from popping up every time you want to just render using the VFB.
Apply any object's subtexture as diffuse toggle - script added to Materials menu. This is similar to the apply displace as diffuse but populates a list from the files attached to the mesh's shader:
I'm working on getting it to work with V-Ray Blend mats as well. Thanks go out to Andrew Hazelden for the list population code. That saved me tons of work.
Initial V-Ray Tuner/Refresh info that is shown in the command line feedback now includes your scene's preview resolution.
If you enjoy using V-Ray Tuner, call your parents and tell them you love them.
A Script to Toggle Displacement as a Surface Shader Diffuse in Maya
If you tweak cage meshes in Maya that are to be subdivided and displaced, you end up worried about a couple things: what will happen to your seams when you do that tweak and what is the displacement going to do when applied to your tweak? As I mentioned in an earlier post, you can do a polygonal displacement preview but sometimes it is sufficient to just preview the displacement on your cage mesh in Maya. So I wrote a script that will be part of the next version of V-Ray Tuner that makes a temporary surface shader and applies the displacement map for the currently selected mesh as the diffuse colour. If you run it again, it switches back to the original shader and deletes the temp surface shader – no crap left around.
One nice feature of this script is that it uses the same file node as your material so even if you change the link to a new file you might have touched up, it will update the original shader's displacement file node even though you are previewing the surface shader. I hope you find it useful.
Grab the script here. It works with all renderers.
V-Ray Tuner 3.5 Posted for Download
The latest version of V-Ray Tuner is out now. 3.5 includes some
Optimize button's V-Ray dynamic memory adjustment now works automatically with versions 2014 and over. No more manual setting of RAM amount needed.
Added an SSS Prepass Rate Switch script to Materials menu. This dialog prompt lets you set the prepass rate for all SSS materials at once so you can dial it down to something like -1 for draft renders and then put it back up to 1 or something like that for final renders. Can save a lot of time. Just enter the negative or positive integer value and the script sets all V-Ray SSS mats at once.
Removed Disable Texture Filtering script from Materials menu. It turns out that disabling texture filtering will load the full resolution textures (no matter how small it is in the scene) so it can use a lot of memory needlessly.
Per-light exposure tweak fixed for non-VRay lights.
Select Z-Depth RE added to Utilities. Saves digging into render settings to adjust Z-Depth parameters.
Select V-Ray Sky added to Utilities. Same as above but for sky node.
Start/Stop IPR Render menu items added to RT menu so you can start V-Ray RT from there.
Render log/console script in Utilities menu now opens the vray4maya_renderlog.txt in OS X's Console.app
Make Frustum script added to Utils menu. It makes a Nuke style 3D frustum for selected cameras and parents it under your camera node:
Split Utilities and put render stuff into a Render menu because there was too much stuff in the Utilities menu before
Replaced "D" displacement toggle checkbox with "PL" for prefilter light cache since it's more commonly used.
Per-light render script now has a simple interface and toggle for VFB curves and levels. The "Proceed to next light" option is used to cancel renders. If you uncheck it and hit escape, it won't proceed to the next light. This prevents hammering cancel to stop it from rendering all your lights if you want to stop the operation.
V-Ray Tuner 3.4.2 – Another Small Update
Just did a few fixes and small additions to V-Ray Tuner. Changelog lady:
Tumblr is all bunged up so read the changelog on the Creative Crash page.
Small Maintenance Update to V-Ray Tuner for Maya 2014
V-Ray Tuner 3.4.1 posted for download. There's not too much new here but there's an important fix for the Optimize button script for Maya 2014. Maya 2014 has a bug that returns the wrong number for RAM amount for "memory -phy" so, if you're running 2014, the script asks you to enter your memory amount in GB. Otherwise, the only other new addition is that I've added Point Light support to per-light render script.
V-Ray Tuner 3.4 Update Releasededed
This is not a huge update to V-Ray Tuner but it brings a few fixes and features that affect various things. Here's 3.4 changelog:
Composite pre-bake diffuse colour with V-Ray Dirt RE:
Changed DaveBake420 10% value to be 512x512, instead of 409.6x409.6 (10% of 4096).
Attach Cam button now prompts you to add and enable physical cam attributes if you don't have them already on the selected camera. If you select no, it will still hook up the overscan setting.
materialDropper and materialCopyDropper now work on face-level selections as well as with objects.
Optimize button now sets memory setting (sys_rayc_dynMemLimit) to 80% of total memory in your system.
Fixed material worker layer script. I had started to implement a new feature but forgot to finish it so it was broken for a couple versions.
Per-light render script now does solo light re-renders. If you have a light selected and run per-light render, it will only render that selected light:
Small fix to per light exposure light tweak - it could fail to properly detect your light selection before.
Revert To Saved Document script added to Utils menu.
V-Ray Tuner 3.3 Gets the Hot Feature Injection
I am pretty happy with the latest V-Ray Tuner 3.3 update. It adds a number of features that I now use constantly and I think they'll be pretty popular. Here's a break down of what's new in 3.3:
Optimize setting now prompts you for core count when distributed rendering is on. Use the max threads of any of your machines that are active in the render. If you have a local machine that's eight cores (or four hyperthreaded) and a slave machine that has 16-cores hyperthreaded (32-threads), enter 32. Disable DR and click Optimize again and it will properly set the thread count for the local machine only:
Added a disable texture filtering script to Materials menu so you can turn off filtering for File nodes all at once.
DaveBake420 script has got a big uprade in 3.3. Now has an option to comp your Dirt V-Ray pass with the diffuse channel after baking. Good for adding grittiness to diffuse textures with little work:
Fix Light Size button replaced with create Sun & Sky script. V-Ray no longer has issues with manually-scaled lights so the script is no longer necessary.
Sprite Maker script now works with currently selected camera, not just main persp camera.
New Material Swapper script that should replace the "Maya and mental ray Mat to VRay" script for conversion of Maya materials to V-Ray mats and back. Paul Dreisen graciously provided the original script but I tend to convert more between Maya's materials and V-Ray than mental ray mats and I wanted to beef up the accuracy of conversion that's done by the script to save time. This script does a really good job of converting things like Phong materials from Mudbox FBX files to V-Ray, with all channel-mapped texture intact. If you want to go back to Mudbox but you've set up a V-Ray Material, it will swap the V-Ray Mat for a similarly set-up Phong, Lambert or Blinn mat. It's also great for mass-converting Paint Effects polygon materials. Here it is in action:
It's not shown in that video but the release script now has a palette with an option to keep the original swapped-out mats after conversion.
As always, let me know if there's anything you want added or tweaked in V-Ray Tuner.
V-Ray Tuner 3.2 – Small Maintenance Update for Linear Workflow Tools
I've updated V-Ray Tuner with some more robust changes to the handling of materials and textures when using the Gamma Correct Me script. It now works with any type of texture and it no longer gamma corrects a node if it's parented to a gamma correct already. It's more foolproof overall and, as always you can do the degamma on textures or the parent V-Ray materials:
Other additions:
Edit all selected images script to open all selected file nodes in image editor
Shellac me now enables shadows for both base and coat materials. I always use this, so if you don't want this on, remove these two lines from the script: setAttr ($currentSurfaceShader[0] + ".bumpShadows") 1; and this: setAttr ($fresnelCoater + ".bumpShadows") 1;