Brahms portrait - day 1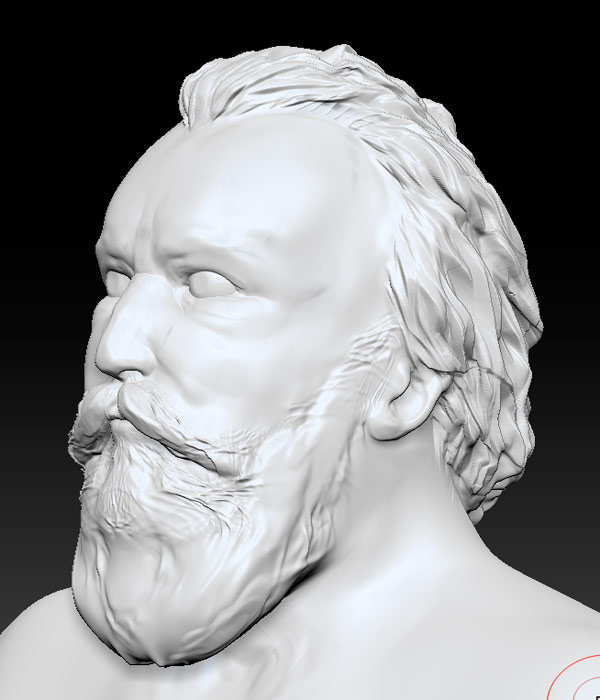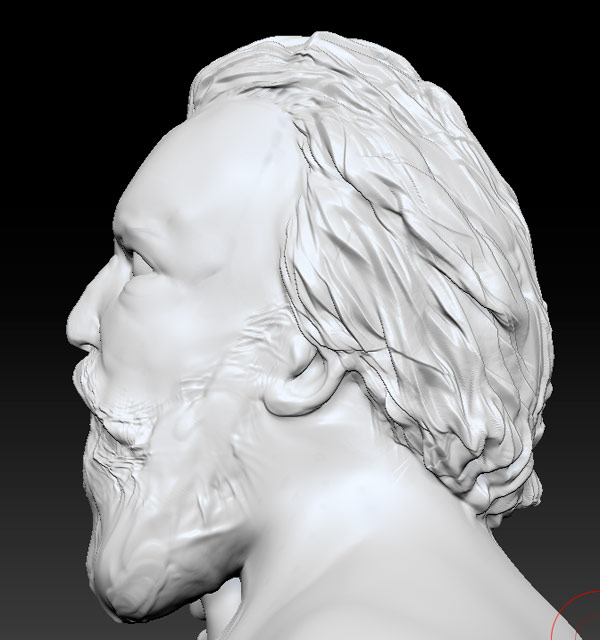 He no longer looks like a plastic KFC Colonel piggy bank (I had one of those).
Morph targets and Inflate in ZBrush
Most people know to use Morph Targets in ZBrush as a faux masking effect but here's just a quick example to show how to use it with Deformation/Inflate for a masked fattening effect. Very basic but essential if you don't know it already.
GoZ Buddy Script
A while ago, I described a workaround here for keeping vertex normals for meshes sent from ZBrush to Maya by using a blend shape. Well, I got tired of doing this manually so I made an interface to a pre- and post-script for GoZ to make this procedure faster. See it in action here (with a demo at the start of how ZBrush discards these vertex normals, which is the reason for the script):
If you're fine with using the subdiv/smooth rendering technique for your models, then you probably don't need to use this. It's really for those times that you're happy with your mesh vertex normals (maybe you have a game-res model with a mix of hard and soft vertex normals) and want to send it to ZBrush, maybe for UV Master or you want to make a new displacement map. You'll notice in the video that my V-Ray material needed to be re-applied. This is a GoZ quirk that sometimes comes up. The script doesn't mess with any GoZ code itself, so there's nothing I can do about those things. It's just a blendshape and UV transferring tool that helps work around this limitation with GoZ and Maya.
The Lock DisplaceMap Scale button at the bottom runs an embedded version of my ZBalphaLinker script, shown here:
Useful if you're using 8- or 16-bit displacement maps. So where's the link to download this thing? Right here.
Melt an object with ZBrush and Maya
Someone on the CGSociety forum asked how to do this, so I thought I'd post the best way to accomplish a melting effect, by using blend shapes in Maya. Import the before and after state from your sculpting app, create a blend shape and animate:
Super easy. Obviously you'd need to detail things a little better than that and it gets trickier once you get into really making it convincing, but it really just involves mixing more blend shape states to get it to look right.
Trick GoZ with a symlink in OS X
Symlinks are a great way to get around programs putting stuff where you don't them to. GoZ is one of those. It just drops stuff into a static folder and doesn't care what your current project is, so I use a symlink (like an old Mac alias but they work deeper in the filesystem):
Move onto your next project and make a new symlink. Grab the OS X Service here (place in ~/Library/Services/). 
Blend shapes as a workaround for GoZ and vertex normals
If you need to preserve vertex normals after sending meshes to ZBrush and back to Maya, check out my Transfer Attributes and blend shapes workflow:
Topological masking in ZBrush 4
ZBrush is one of those programs that has so many tools that it's easy to lose some of the better ones in all that stuff. ZBrush 4's topological auto-masking is one of those. Often you'll sculpt something and close objects on the other side get distorted as well. You used to have to hide these objects but toggling topological masking is the way to avoid problems like this:
The range setting is multiples of the brush size. It can be tricky to find the right size, since dropping this value effectively shortens your strokes. If you need to draw a very long stroke along the edge with something immediately behind that edge, it might still be necessary to hide those faces:
…or make a separate Polygroup and use masking by Polygroups (the value of 100 means 100% masking):
Remember that the topological masking also works with masking and smoothing, if you click the Topological button while those modifiers are active.
Use ZBrush's Crumple, Slash and Move brushes for a slept-in pillow
I'm working on a scene now that involves a hospital bed and I need a pillow that looks slept on. I already have a pillow model that was very hard-looking, so it only took a couple minutes in ZBrush to make it look slept in, since ZBrush has so many good tools for this type of effect:
Since it can be tricky to see the subtle crumpled edges while you work, it's a good idea to use a faux-Fresnel shader like I do in the video to really see the edges, even with slight variations.
Fast low-res mesh retopology with ZBrush 4 voxels
ZBrush 4 has some new voxel meshing tools that are a big help for those times you just need relatively even quad meshes for things like normal-mapped meshes. I use retopology tools like Topogun when I need strict control over edge loop flow but when I just want some decent quads quickly, this is a huge time-saver and the quality is very good.
The workflow is pretty basic:
send the high-res mesh to ZBrush (I'm using GoZ from Maya)
select a resolution for your desired low-res mesh
hit Remesh All
move the remeshed subtool up above your high-res mesh
hit Project All in the Subtools palette
You now have a quadrangle-based mesh that maybe just needs to be tweaked for better edge flow in certain areas. Check it out:
Finished 3D illustration for REVIEW magazine. Software used: Maya, V-Ray, ZBrush, Nuke, and Photoshop.